This Was Alan Rickman's Parting Work on the Refugee Crisis Before His Death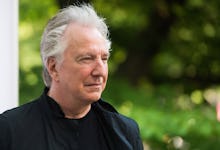 Charles Sykes/AP
One of the last projects by the late British actor Alan Rickman was a 30-second video in collaboration with Oxford University students' charity OneClickGiving, which raises money for the refugee crisis, the Independent reported. The video, called "This Tortoise Could Save a Life," was uploaded to YouTube on Dec. 13, about a month before his death on Thursday from cancer.
"We're trying to make a viral video to help refugees," Rickman says in the video, voicing over a tortoise snacking on a strawberry. "We're slowly gathering views as this tortoise munches away." Since YouTube gives advertising revenue to uploaded videos, the more views the video receives, the more aid money is generated, he explained in the video. "Together, you and this tortoise can make a difference," Rickman says.
Read more:
The funds go toward Save the Children and the Refugee Council, according to the video. The Refugee Council works primarily in the U.K. to help rebuild refugees' lives, and Save the Children works globally for child refugees who need aid and support.
The refugee crisis is a rapidly growing global concern, as involuntary migration will most likely be the key serious issue that the world will face with over the next year or so, the World Economic Forum said, according to CNBC. War is a common reason for involuntary migration, especially in places like Syria, Democratic Republic of the Congo and Iraq, CNBC reported. The United Nations registered more than 4.6 million refugees in 2015 from just Syria. 
OneClickGiving was founded in 2015 by Oxford University students. It secured Rickman's voice through former Guardian editor Alan Rusbridger, who also shot the video, according to its press release.
"I really hope this video goes viral. It is an innovative project for an extremely important cause," OneClickGiving founder Oliver Phillips said, according to the press release. "Our charities are two of the most effective at helping refugees, who desperately need your support."
Rickman has worked with other charities in his lifetime, such as being the president of the International Performer's Aid Trust, which is focuses on poverty alleviation, according to BBC Radio. 
As of Thursday afternoon, the OneClickGiving video had more than 200,000 views. The video is below: