GOP Debate 2016: Start Time and Channel for Fox Republican Debate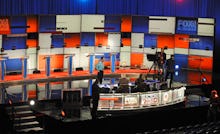 The remaining GOP presidential hopefuls will gather in South Carolina Thursday for the sixth Republican primary debate, hosted — for the second time — by Fox Business Network. The main stage debate will broadcast live from the North Charleston Coliseum and Performing Arts Center kicking off at 9 p.m. Eastern, preceded by an undercard debate at 6 p.m. on the Fox Business Network. The network will also offer a livestream of the debate on its site (open to everyone, not just cable subscribers).
Frontrunner and business tycoon Donald Trump, Texas Sen. Ted Cruz, Florida Sen. Marco Rubio, former neurosurgeon Ben Carson, New Jersey Gov. Chris Christie, former Florida Gov. Jeb Bush and Ohio Gov. John Kasich will face off for the 9 p.m. Eastern debate. 
Former Arkansas Gov. Mike Huckabee, former Hewlett Packard CEO Carly Fiorina and former Pennsylvania Sen. Rick Santorum will participate in the undercard debate. Kentucky Sen. Rand Paul was invited to the undercard debate but decided to boycott because he "won't participate in anything that's not first tier."