Portia de Rossi, Ellen DeGeneres Are Naming Their Dog "Kid" for a Very Good Reason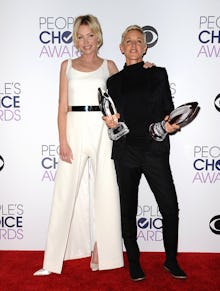 Jason LaVeris/Getty Images
During Thursday's episode of the Ellen DeGeneres Show, comedian and host DeGeneres announced that she and wife Portia De Rossi are having a kid. And while misleading, it wasn't technically a lie. "Kid" is what the celebrity couple have chosen to name the newest addition to their family, a nine-week-old puppy.
"There have been rumors forever, 'when are you and Portia gonna have a kid?'" DeGeneres said according to BuzzFeed. "So now I can say we have a Kid. So it can just stop." DeGeneres and de Rossi have long said they don't want children and have frequently had to answer questions about whether they ever would. 
"There comes some pressure in your mid-30s, and you think, Am I going to have kids so I don't miss out on something that other people really seem to love?" de Rossi told Out magazine in 2013. "Or is it that I really genuinely want to do this with my whole heart? I didn't feel that my response was 'yes' to the latter."
Kid joins Augie and Wolf as the couple's third canine.
"He's got so much energy. ... It really makes me appreciate what it's like to be a mother," DeGeneres said of Kid during Thursday's episode. "I'm trying to hold a puppy while I'm trying to make coffee and I can't do anything. 
For some, DeGeneres' lightheartedness about the pressure to be a parent may come as a refreshing dig at those behind the rumor mill she alludes to. As Mic previously reported, the number of women who don't become mothers is higher than it's ever been before. Yet that fact doesn't seem to quiet pressures from a society that often expects the opposite of most women. 
Watch DeGeneres announce the good news:
Jan. 14, 2016, 5:00 p.m. Eastern: This story has been updated.