Finally, a Standing Desk Adapter That Doesn't Cost as Much as a Laptop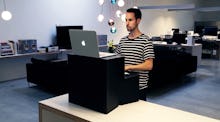 Regardless of what your every instinct tells you, sitting is the worst. It's bad for your heart, your soul and the muscles you use during sex. So standing desks that elevate your computer and keyboard to allow you to work on your feet have been in vogue at productivity-conscious startups for years.
Unfortunately, standing desks — even just little desktop adapters that elevate your computer — can be miserably expensive, costing hundreds of dollars for essentially a small metal or wooden riser. (The Wirecutter's top choice for a riser is the $400 Kangaroo Pro Junior.) This reporter has been to a handful of offices where the employees just throw up clunky mini-tables and cheap wooden boxes on their desks to simulate the experience and get their standing in.
Here's a saving grace for our broke selves. The Oridesk is a new, foldable standing desk made of cardboard, and it costs only $25.
Cardboard seems like it'd be flimsy, but the Oridesk is (allegedly) made with a strong enough support system to hold a great deal of weight, even though the desk can be folded flat and tucked away lightly when not in use.
It's not the first cardboard standing desk: The Australian Refold desk packs up into a number of pieces and functions as a free-standing desk wherever you take it. But building it looks labor-intensive and, of course, the entry-level model costs $250.
There's also an inexpensive way to hack Ikea furniture into a standing desk. 
But now that there are more affordable options, you have no excuse to remain seated. So if your slim wallet was the one thing keeping you from getting off your ass and working on your feet, consider yourself pulled from your cozy, seated existence. You now have no excuse.