7 Little-Known Martin Luther King, Jr. Facts You Weren't Taught in History Class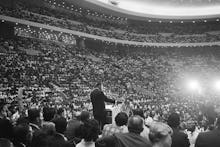 Anonymous/AP
Sometimes America's public school system gets black history wrong. So wrong, in fact, that Bethel University student Justin Giuliano created his own hashtag to spread awareness regarding black history he felt was overlooked in the average school's history curriculum. 
"I thought, 'I'll just make a hashtag, #BlackHistoryYouDidntLearnInSchool, because he's been erased from history and I never learned about him in school,'" Giuliano, referring to the civil rights activist Bayard Rustin, told PBS NewsHour in February. Rustin worked with Martin Luther King, Jr. 
The United States recognizes Martin Luther King, Jr. Day on Monday, Jan. 18. We've decided to commemorate his holiday by sharing seven facts about the civil rights leader that you weren't taught in school.
King first had a dream in Detroit.
Two months before Dr. Martin Luther King, Jr. delivered his famous "I Have A Dream" speech in Washington D.C.,  he made mention to his dreams in Detroit. In June 1963, King marched down Woodward Avenue with a crowd of 125,000 in the largest civil rights demonstration the US had seen at the time. 
The rally, known as "The Walk to Freedom", protested the civil rights issues of the time, such as segregation in the South, but also educational and economic inequality that persisted in the northern states. The march concluded at Cobo Hall, in the heart of Detroit. 
"I have a dream this afternoon that my four little children, that my four little children will not come up in the same young days that I came up within," King said at the end of the march, according to MSNBC, "but they will be judged on the basis of the content of their character, not the color of their skin."
King's mother was assassinated
Most people learn in school that Martin Luther King, Jr. was assassinated in 1968. But many don't know that his mother, Alberta King was shot and killed as well. 
Dr. King's mother was shot and killed at a Sunday service in Ebenezer Baptist Church in Atlanta in 1974 by Marcus Wayne Chenault Jr. He told the police that he intended on assassinating Rev. Martin Luther King Sr., but murdered Alberta King because she was nearer to him, according to the New York Times.
Member of a Greek-Lettered Fraternity
Over 60 years ago in 1952, a young Martin Luther King, Jr. became a member of Alpha Phi Alpha Fraternity, Inc, the first and oldest successful intercollegiate fraternity for black men. The young graduate student studying systematic theology was initiated into the Sigma chapter at Boston University. 
Herman Hemingway, retired University of Massachusetts professor and the first black graduate of Brandeis University in Massachusetts, met King in 1951 while pledging Alpha Phi Alpha Fraternity. 
"I feel blessed to have met and spent time with Brother King. I was inspired by him as well. This was a man who was on a different wavelength than the rest of us," Hemingway told The Atlanta Journal?Constitution. "We learned the importance of community efforts, brotherhood, self-reliance and respect for our own people." 
The Martin Luther King, Jr. Memorial in Washington D.C., due to the efforts of the Alpha Phi Alpha Fraternity, is the first to honor an African American on the National Mall. 
Martin was once Michael
One of the most recognizable names in American history wasn't always so. The Southern minister was born Michael King Jr. on Jan. 15, 1929. 
The name change came in 1934, when Michael King Sr. changed his name to Martin Luther, in honor of the 16th Century Protestant Reformation leader. Michael King Jr. followed in his father's footsteps, and changed his name to Martin Luther King, Jr. 
King started college at 15 years old
The average student begins their journey into higher education at the ages of 17 or 18. King skipped grades nine and 12 and enrolled into Morehouse College, a historically black college in Atlanta, at the age of 15. He almost decided against becoming a Baptist minister, until he was convinced otherwise by then-Morehouse president Benjamin E. Mays, according to History. King graduated from Morehouse College with both a degree in sociology  and as an ordained minister at 19 years old in 1948.
King went to the Lincoln Memorial twice
The civil rights leader's first speech on the National Mall didn't take place at the March on Washington for Jobs and Freedom in 1963, but instead happened six years prior. King gave his first speech in front of a national audience at one of the earlier moments of the civil rights movement, the Prayer Pilgrimage for Freedom on May 17, 1957.
The crowd of about 30,000 non-violent demonstrators listened to the Southern preacher's speech on voting rights, pushing King to the forefront of the civil rights movement. Organized by the labor movement leader A. Philip Randolph, the three-hour program featured notable entertainers and civil rights leaders such as actor Harry Belafonte, actor and singer Paul Robeson, gospel singer Mahalia Jackson and then-NAACP executive director Roy Wilkins. 
King winged most of his most famous speech
The "I Have A Dream" speech is one of the most well-known addresses in American history, but the civil rights leader ad-libbed most of it, according to Clarence B. Jones, co-writer of the famous speech. 
The speechwriter, who wrote a book on his co-authorship of the "I Have A Dream" speech, then goes on to explain how Jackson helped inspire one of the greatest improvisational speeches ever. A gospel singer and close confidant of King's, Mahalia Jackson, told him to "Tell 'em about the dream, Martin, tell 'em about the dream!" 
From that moment, the civil rights leader had "given himself over to the spirit of the moment," Jones wrote in the Washington Post.
"In front of all those people, cameras, and microphones, Martin winged it," Jones recalled, adding the speech "went on to depart drastically from the draft I'd delivered."
Before that day, the speech was originally called "A Canceled Check".