Chicago Releases Video of Police of Cedrick Chatman, Unarmed Black Teen Killed in 2013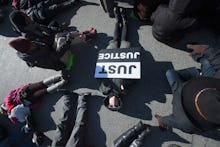 Scott Olson/Getty Images
A recently released video of a 2013 Chicago police shooting that ended in the death of 17-year-old Cedrick Chatman is the latest chapter in an ongoing debate surrounding police violence in the city.
The video of Chatman's death at the hands of Officer Kevin Fry was released Thursday following a ruling from U.S. District Court Judge Robert Gettleman, who ordered that the footage be made public, CNN reported.
The footage depicts Chatman running from police, then falling to the ground after being fatally shot by Fry, CNN reported. The video shows that while he was lying unarmed on the ground, Chatman was handcuffed and one of the arresting officers "places his boot on top of him," CNN reported.
Fry and his partner, Officer Lou Toth were chasing Chatman on foot on Jan. 7, 2013 — Chatman was a suspect in a car theft — when, according to Fry's testimony, Chatman made "a slight turn" toward the officers, according to CNN.
Fry saw "a dark gray or black object" in Chatman's hand, which he "believed to be a handgun." The object, in turned out, was a black iPhone box.
Attorneys for Chatman's family believe the video refutes Fry's account that he "feared for his life," reports local television station WLS. "From our point of view, it's very clear Mr. Chatman is running as fast as he can," Brian Coffman, who is representing the Chatman family, said at a press conference Thursday morning, according to WLS.
Lorenzo Davis, an investigator with the city of Chicago's Independent Police Review Authority, told WLS that Fry "did not appear to exhaust any method of capturing Chatman other than shooting him and killing him." Davis claims he was fired from his position with the review authority because he refused to change his findings in his report of Chatman's death.
In November, the city of Chicago released the video of the death of 17-year-old Laquan McDonald, who was shot 16 times by Chicago Police Officer Jason Van Dyke, who was indicted on first-degree murder charges.
Following the release of the video of McDonald's shooting death, protests calling for police reform were held across the city.
Jan. 14, 2016, 9 p.m. Eastern: This story has been updated. 
Correction: Jan. 15, 2016