This Groom and His Groomsmen Wore Lululemon to His Wedding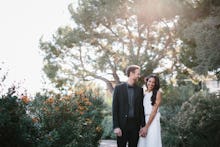 At this point, you've probably come to expect seeing activewear at the office, during happy hours and even New Year's Eve festivities. Now it's showing up in a slightly less expected environment: a wedding.
Chaim Schalk, a Canadian beach volleyball star training for the 2016 Summer Olympics, wore Lululemon to his Dec. 31 wedding to fellow pro volleyball player Lane Carico. 
Schalk and his groomsmen wore two pieces from Lululemon's No Sweat collection, the Bonded Voyage Long Sleeve Button Down and the black Commission Pant. (Schalk's bow tie and jacket, alas, weren't Lulu.)
"My bride, Lane, was a bit nervous at first, but once I did a fashion show, she couldn't believe how great it all looked!" Schalk told Mic. "There were a lot of perks to wearing Lululemon in the wedding, mainly that it was the most comfortable wedding ever. We felt amazing and looked fantastic, and obviously our dance moves were top notch given the freedom of movement the technical gear provides."
The move isn't all too surprising for Schalk: Canada-based Lululemon is a corporate partner with Team Canada Beach Volleyball and the official apparel provider for players — including Schalk, one half of the country's top-ranked duo — for 2016.
"Our No Sweat collection is designed with handsome tailoring, attention to details, timeless appeal and, most importantly, technical benefits to carry our male guest throughout the day, no matter what the activity — even weddings!" Scott Van Doormaal, a men's global merchant at Lululemon, wrote in an email to Mic. 
What's more surprising is that a brand like Lululemon makes clothing you can even wear to a wedding. Consider it further proof that "athleisure" has succeeded in total world domination.
The workout clothing takeover: "Athleisure" may be tired industry-speak at this point, referring to the category of workout clothes that are made to be worn beyond spin class. But the trend is still growing, thanks in no small part to the juggernaut that is Lululemon.
Lululemon found massive success creating performance gear women want to wear outside of a fitness setting. Now more designers have joined the high-growth sportswear market, from Mara Hoffman and Rebecca Minkoff to Tory Burch, who unveiled her Tory Sport collection in the fall. Popular basics line Everlane just launched its first athleisure collection, made of "street fleece," that already has wait lists into the thousands.
Only more brands are destined to go the workout clothing route. Over the course of seven years, sports apparel and footwear sales grew 42% to $270 billion globally, according to a recent athletic wear report from Morgan Stanley Research, and the market is poised to expand further. Athleisure is both boosting the traditional athletic brands like Nike and Under Armour, according to analysts (Nike's revenue increased to $7.7 billion in the second quarter of 2015) and leading clothing brands to venture into stylish workout wear — and it's all converging in our everyday lives.
Athleisure hasn't totally supplanted bridal gowns just yet (there's appears to be only one white dress currently for sale on Lululemon.com). But it wouldn't be a huge stretch to say that you may start seeing clothes from athletic-minded brands showing up at weddings in the future, especially as more clothing brands venture into wedding wear (hello, Anthropologie and J. Crew). Lulu did make a fan a custom tux back in 2014, so who knows what's possible.
Plus it's a pretty smart move, if you think about it. Wearing clothes that will hide your nervous sweat as opposed to stuffy tuxes, and let you dance like a maniac on the dance floor? Kind of genius. 
The only downside: It's unlikely that those dreaded black tie invitations will allow for sweat-wicking leggings anytime soon.
Jan. 15, 2016, 11:23 a.m.: This article has been updated.