Bernie Sanders Just Won a Surprising New Endorsement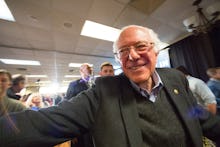 Sen. Bernie Sanders (I-Vt.) won the endorsement on Thursday of former Sen. Paul Kirk (D-Mass.), delivering establishment gravitas to the democratic socialist's insurgent (and surging) campaign.
Decrying economic inequality, the influence of big money in politics and declining public faith in the country's leaders, the former Democratic National Committee chairman said, "Among all the presidential candidates, only Bernie Sanders is telling that truth: The unlimited amounts of money flooding our political system from a narrow and immensely wealthy slice of American society is the most pernicious internal peril threatening the fundamental tenets of economic, political, moral and social justice and, not least, the fairness and vibrancy of our representative democracy."
Avowing "great respect and appreciation for the significant contributions" of Democratic frontrunner Hillary Clinton and former President Bill Clinton, Kirk said at a press conference at Dartmouth College in New Hampshire, that he nevertheless believed "Bernie Sanders — alone— has spoken consistently, honestly, courageously, passionately and credibly" about the issues confronting the country.
A "superdelegate" to the Democratic National Convention, Kirk is a longtime associate of the Kennedy political dynasty, having served as the late Sen. Ted Kennedy's (D-Mass.) chief of staff before leading the Democratic National Committee from 1985 to 1989, as the Sanders campaign pointed out in a statement touting the endorsement. Kirk later became chairman of the board for the John F. Kennedy Memorial Library. He stepped down from that role in 2009, when Massachusetts Gov. Deval Patrick appointed him to Kennedy's Senate seat following the political scion's death from brain cancer. Kirk did not run in the 2010 special election to serve out the remainder of Kennedy's term.
According to the Sanders campaign, the senator has now won endorsements from 16 superdelegates to the DNC. But as the Washington Post reported late last month, Clinton has already nabbed endorsements from at least 359. Unlike traditional pledged delegates, however, superdelegates — a mish-mash of elected officials and party activists — can flip their support to other candidates.
Kirk's backing comes as Sanders' campaign shows new signs of momentum, with Clinton's lead eroding nationally and in Iowa and Sanders maintaining the edge in New Hampshire.