Who Won the Powerball? California Nurse Reportedly Among 3 Winners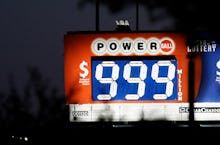 LM Otero/AP
Several media outlets reported Thursday that the California winner of Wednesday's record-breaking Powerball jackpot was a 62-year-old woman who works as a nurse at the Park Avenue Health Care and Wellness Center, a nursing home in Pomona, California. The other two winners — one in Florida and one in Tennessee — have not been identified. 
The unnamed and unconfirmed winner is allegedly a married mother of seven children, "six of whom are also nurses," reports ABC News. A representative for the center told Mic she couldn't confirm or deny that their employee was the winner, but said that the center was busy fielding calls from the media. According to KABC, as of Thursday, no one had approached California Lottery with a winning ticket. 
Wednesday's Powerball jackpot made headlines for being the biggest lottery jackpot in history — by the time of the drawing on Wednesday night, the winnings had surged to over $1.3 billion dollars, causing a nationwide lottery-frenzy.
If the unnamed nurse in Pomona is really a holder of one of the three winning tickets sold for Wednesday's jackpot, she'll be splitting the total with the other winners, leaving her with hundreds of millions of dollars in lottery winnings.
The woman may have received her winning lottery ticket a gift from her boss, Shlomo Rechnitz, the owner of the Park Avenue Health Care and Wellness Center, reports ABC News. Rechnitz reportedly gave away 18,000 tickets to employees and to residents at his nursing homes.