Here's What the 'New York Times' Really Said About Ted Cruz's Senate Race Disclosure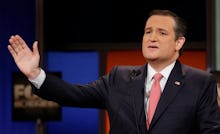 Chuck Burton/AP
In Thursday's Republican debate, Texas Sen. Ted Cruz was posed a question by moderator Maria Bartiromo about a Wednesday New York Times article, which found that Cruz allegedly failed to properly disclose over $1 million in loans from banks Citibank and Goldman Sachs while running for Senate in 2012. Cruz went on the defense, saying he made a "paperwork error" and said the Times should "go back to the well" if that's all they could dig up. 
The article said that Cruz put $1.2 million of "personal funds" into his Texas campaign. But a look at the disclosures filed by Cruz found no liquidation of assets but instead two loans by Goldman Sachs and Citibank, without explanation. His campaign representative said there was no reason it was undisclosed, but the move was met with skepticism.
"Neither loan appears in reports the Ted Cruz for Senate Committee filed with the Federal Election Commission, in which candidates are required to disclose the source of money they borrow to finance their campaigns," the Times reported. "Other campaigns have been investigated and fined for failing to make such disclosures, which are intended to inform voters and prevent candidates from receiving special treatment from lenders. There is no evidence that the Cruzes got a break on their loans."
Read more:
Cruz was quick to defend himself against the bad publicity. He said that unlike Democratic candidate Hillary Clinton, he didn't have "masses of money in the bank," and that his opponent in "that race was worth over $200 million," who put up $25 million from his pocket for the race. Cruz, on the other hand, had to invest "everything we owned," taking out a loan against his assets to invest in the campaign. Cruz did admit there was a paperwork error when publicly filing the loan, having mentioned it on one filing and not another. 
Cruz then blamed the mainstream media for being too opinionated, referencing an October New York Times op-ed written by Frank Bruni that compared Cruz to the supernatural villain in the movie It Follows. "So, you know the New York Times and I don't exactly have the warmest of relationships," Cruz said during Thursday's debate. 
In the article titled "The Scary Specter of Ted Cruz," Bruni calls Cruz the "patron saint of lost causes," who doesn't create solutions but rather more problems and rants. "He wouldn't have felt compelled to utter them if Cruz wasn't a possible factor in the race — if he wasn't a menacing, stalking, relentless force to watch for and run from, like the body-hopping spirit in this year's most celebrated horror movie, It Follows," Bruni wrote. 
"But if that is the best hit the New York Times has got, they better go back to the well," he said.