Ted Cruz Hates "New York Values" Unless He's Raising Money From Gay Donors in Manhattan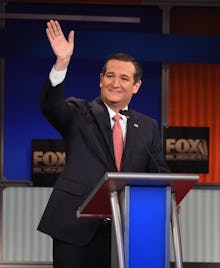 Sen. Ted Cruz of Texas ripped "New York values" at the sixth Republican presidential debate Thursday night, elaborating on a line of attack he's been using against the party's Big Apple-based frontrunner, real estate tycoon Donald Trump.
Asked by Fox Business Network co-moderator Maria Bartiromo what he meant by the phrase, Cruz replied, "There are many, many wonderful, wonderful working men and women in the state of New York. But everyone understands that the values in New York City are socially liberal or pro-abortion or pro-gay marriage, focus around money and the media."
But Cruz's contempt for New York values — like, say, social tolerance — appears selective.
Not so fast: In April, the senator was perfectly happy to attend a fundraiser campaign at the Central Park South apartment of gay businessmen Ian Reisner and Mati Weiderpass, an event that sparked LGBT boycotts of Resiner and Weiderpass' hotels and resorts given Cruz's fierce opposition to marriage equality and measures like the Employment Non-Discrimination Act.
At the fundraiser, Cruz reportedly sounded a moderate tune on gay rights, despite his public stances.
"Ted Cruz said, 'If one of my daughters was gay, I would love them just as much,'" Reisner told the New York Times after the event.
That wasn't the only time Cruz privately parted from his public posture on LGBT issues. Last month, Politico obtained audio of Cruz answering "no" at a New York fundraiser when a donor asked whether he considered combatting marriage equality a "top-three priority."
"So would you say it's like a top-three priority for you — fighting gay marriage?" the donor asked Cruz, after saying he disagreed with the senator on the issue.
"No," Cruz responded. "I would say defending the Constitution is a top priority. And that cuts across the whole spectrum — whether it's defending [the] First Amendment, defending religious liberty."
That was then, and, perhaps more importantly, that was behind closed doors. Now, as Cruz woos Christian conservatives and seeks to dislodge Trump, he's perfectly content to turn "New York values" into a pejorative phrase.