People Would Rather Watch the Trailer for 'Money Monster' Than the GOP Debate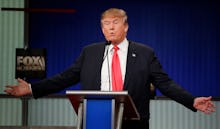 Chuck Burton/AP
For some Twitter users, one of the most exciting parts of Thursday night's GOP debate wasn't the spats between candidates or the frontrunners answering tough questions — it was the trailer that aired for Money Monster, an upcoming hostage thriller starring George Clooney, Jack O'Connell and Julia Roberts.
The film's trailer aired during a commercial break during the Republican debate, and people instantly took to Twitter to say how much they'd rather be watching Money Monster than the ongoing debate.
For reference, here's the trailer for the upcoming film:
Money Monster, which is slated for release in May, is, according to the film's official description, a "taut and tense thriller" that follows Clooney and Roberts' characters as they try to diffuse a hostage situation on live television and "find a way to keep themselves alive while simultaneously uncovering the truth behind a tangle of big money lies." Which apparently sounds, to a lot of people, a lot more exciting than a political debate.