Who Won the Republican Debate? Twitter Weighs in on GOP Candidate With Best Performance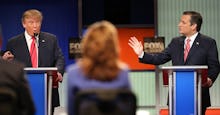 Scott Olson/Getty Images
The first GOP debate of 2016 aired on the Fox Business Network Thursday night, and frontrunner Donald Trump, Texas Sen. Ted Cruz, Florida Sen. Marco Rubio,  former neurosurgeon Ben Carson,  former Florida Gov. Jeb Bush, New Jersey Gov. Chris Christie and Ohio Gov. John Kasich all took to the stage to share their campaign platforms and pick apart each others' records.
Immediately after the candidates wrapped up their closing statements, viewers took to Twitter to share their thoughts about who performed best at the debate. And, as always on the internet, not everyone was in consensus about who "won."
Some on Twitter thought that Rubio, who had a fiery exchange with rival Cruz, had the best performance on Thursday night:
Others, however, thought Cruz had the best showing:
Some thought that current frontrunner Donald Trump had the best night:
And a select few thought that Sen. Rand Paul, who wasn't even in attendance, won the night with his conspicuous absence (and the brief "We want Rand," that broke out from some supporters in the crowd).