Panic! At the Disco: Preview, Tracklist Guide and Album Info for 'Death of a Bachelor'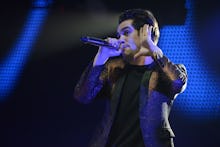 Scott Dudelson/Getty Images
The eye-lined group of Panic! At The Disco released its fifth LP titled Death of a Bachelor on Friday, over a decade after dropping their now double-platinum album A Fever You Can't Sweat Out, according to Billboard. But the band has been reduced to a solo act this time around, consisting only of lead singer Brendon Urie, the New York Times reported. 
The album is a direct reflection of Urie, borrowing sounds and ideas from his childhood, says Entertainment Weekly. 
"Death of a Bachelor is in honor of those times I spent alone as a kid," Urie wrote about his solo album on his Facebook page in October. "Allowing music to consume me. Playing everything myself just to get the idea right and out of my head. It's a beginning to a new era. And an homage to how it all began. This album is me. Running to the piano. Building a drum kit. Strumming a guitar. Some things never change."
Read more:
The band announced their split in 2009, starting with guitarist Ryan Ross and bassist Jon Walker, MTV reported. "Though the four of us have made music together in the past, we've creatively evolved in different directions, which has compromised what each of us want to personally achieve," a released statement had said, according to MTV. 
In April 2015, drummer Spencer Smith officially left after a hiatus from drug and alcohol addiction, Us Magazine reported.
So that left Urie, who says he kept the band name because it's still "everything that I've worked for."
Shortly after Smith's departure, Panic! dropped a single off the album called "Hallelujah" via its label DCD2/Fueled by Ramen, Substream Magazine reported. It was the first music released by the band in two years.
For the single "Victorious," Urie collaborated with Weezer's Rivers Cuomo, Entertainment Weekly reported. His "Crazy=Genius" track borrows "swagger" from Frank Sinatra, one of Urie's favorite artists. Inspiration from Queen, another of his revered bands, comes into play for the single "Emperor's New Clothes," which has the same name as a Danish fable about humiliating a vain emperor, Billboard reported. 
The album is available via iTunes, which provides the track list below:
1. "Victorious" 
2. "Don't Threaten Me with a Good Time"
3. "Hallelujah"
4. "Emperor's New Clothes"
5. "Death of a Bachelor"
6. "Crazy=Genius"
7. "LA Devotee"
8. "Golden Days"
9. "The Good, the Bad and the Dirty"
10. "House of Memories"
11. "Impossible Year"
The music video for "Emperor's New Clothes" is below: