Fashion Show Casts Asylum-Seekers as Models to Make a Point About Immigration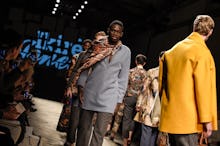 On Thursday at Pitti Uomo, Italy's answer to Men's Fashion Week, three models in particular were the talk of the town. 
A runway show entitled Generation Africa, which showcased four African designers — AKJP, Ikiré Jones, Lukhanyo Mdinigi x Nicholas Coutts and U.Mi-1 — featured three asylum-seekers modeling on the runway.
Their names have not been released for obvious legal reasons, but according to Dazed, the models are from Gambia and Mali and are between 19 and 27 years old. According to Agence France-Presse, the models were farmers and construction works who arrived in Italy by boat in May. 
The decision to include them came with a heavy political message from the show's organizers. According to Reuters, about 140,000 migrants arrived in Italy from North Africa in 2015. 
"As we are in Italy and have a huge refugee crisis, we also want to show that migrants are a resource," Simone Cipriani, the founder of the Ethical Fashion Initiative, told Agence France-Presse. "We are setting up a training center for refugees and migrants in Italy to work in the industry of fashion and be enabled to go back home and set up their own businesses there." 
During the showcase, the models walked wearing African-inspired garb including extravagant hats, cargo shirts and classic trenches. The four designers participating in the show also seemed supportive of the decision to treat the anonymous asylum-seekers exactly the same as the other models. 
"If I take an asylum-seeker and put them in a suit, people perceive them in a certain way, which hopefully allows them to think of them as an equal human being, not as someone's less than them," Walé Oyéjidé, the designer behind Ikiré Jones, told Agence France-Presse. 
Refugees and migrants are also getting a boost from work-training programs, Cipriani said, including one that trains individuals to work in the fashion industry and run their own fashion businesses.
The Generation Africa show is but one example of designers using the runway to take a progressive stance. Vivienne Westwood has brought her passion for climate change to the runway, as well as in magazines and ads, while Karl Lagerfeld tried his hand at political commentary (with debatable success) at a Chanel show in 2014. 
Most memorably, perhaps, was American designer Kerby Jean-Raymond's decision to make his September 2015 runway show for his label Pyer Moss a commentary on police brutality and Black Lives Matter. Jean-Raymond had his models walk down the catwalk with red spray paint on their clothing and statements like "I can't breathe," Eric Garner's last words, scribbled on their shoes.
This is one of the first times that fashion has acknowledged the European migrant crisis — at least, in a sensitive way. In October 2015, as Mic reported, a photographer caught flak for a fashion shoot inspired by refugees, which included a glamorous white model taking selfies with a kerchief on and barbed wire in the background.
This runway show, undoubtedly, is an improvement. The global fashion industry, after all, is a massive, $1.2 trillion business. Acknowledging world crises and using the industry's power for good doesn't seem beyond fashion's reach.
h/t Dazed