'Hell's Kitchen' Season 15: Full Preview, Viewing Info, Contestants and How to Watch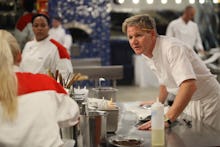 FOX/Getty Images
Celebrity chef Gordon Ramsay's heated cooking reality show Hell's Kitchen will premiere its 15th season on Friday night at 9 p.m. EST on Fox. The 18 chef contestants will be going against each other for a head chef position at BLT Steak at Bally's Las Vegas. 
The first episode consists of the chefs preparing their signature dishes, which could win them a ride on the tallest Ferris wheel and VIP service at Drai's nightclub, Fox said. The losing team will have to prepare a buffet, aka peel 1,000 potatoes. 
The American version of the show started in 2005 with UK chef Ramsay as host, and it's a competition for relatively unknown chefs to win a cash prize and the opportunity to work as head or executive chef at a restaurant of Ramsay's choosing. Each episode usually consists of a smaller individual challenge and then a large team dinner service. 
The finale usually has the last two chefs going head-to-head and creating their own menu for a dinner service. 
The show is known for Ramsay's hotter-than-the-food temper and unscripted drama, Variety reported.
Read more:
The Red Team, which consists of women, includes Kristin Barone, Sherkenna Buggs, Meese Davis, Jackie Fuchs, Dannie Harrison, Ariel Malone, Ashley Nickell, Manda Palomino and Vaness Soltero. The Blue Team, which consists of men, includes Jared Bobkin, Frank Cala, Chad Gelso, Eddie Jaskowiak, Hassan Musselmani, Mark Paras, Alan Parker, Joe Ricci and Kevin Ridlon. 
This season, eight of the 18 chefs hail from either New Jersey or Philadelphia, NJ.com reported.
The celebrity guests run the gamut of pop culture, including Kris Jenner, rapper Lil Jon and astronaut Buzz Aldrin. 
Last season, Virginian chef Meghan Gill won, earning herself $250,000 and a position as head chef at Gordon Ramsay Pub & Grill at Caesars Atlantic City in Atlantic City, New Jersey, Us Magazine reported.  
The preview for Hell's Kitchen Season 15 is below: