Alan Rickman Gets Touching Tribute From Potter Fans at Platform 9 3/4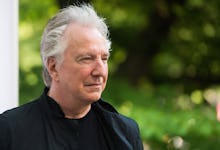 Charles Sykes/AP
The death of British actor Alan Rickman on Thursday shocked and saddened the 69-year-old's many fans around the world. Friends and family were with the beloved East London native at the time of his death, according to the BBC, the cause of which was cancer. In the hours that followed, a barrage of reverent remarks surfaced across social media sites, including from past costars, remembrances were written and memorials in Rickman's honor decorated the streets. By Friday morning, one memorial in particular was moving grieving Rickman fans — a remembrance erected at the site of the fabled Platform 9 and 3/4 from J.K. Rowling's popular Harry Potter series.
Though Rickman's career was long and varied, having begun at the distinguished Royal Shakespeare Company, he was perhaps best know in recent years for his portrayal of Severus Snape in the Harry Potter series, a role he began in 2001. In learning of Rickman's death, British author Rowling tweeted that she was "devastated" about the news and added that Rickman "was a magnificent actor and a wonderful man." 
Read more:
On social media, fans shared photos of flowers, letters and other remembrances in Rickman's honor placed lovingly at platform 9 3/4. 
On Reddit, Rickman fans were beside themselves to learn of the tribute. "You know, I thought I was fine until I saw this," wrote one Reddit user. "Never mind. Still upset."
Fans of Harry Potter are fierce in their loyalty to the series. On Thursday, a second tweet surfaced from Rowling, in which the author expressed her condolences to Rickman's family. Rickman's Harry Potter costars followed in kind on Thursday with heartfelt posts across social media about the beloved actor's death.
In 2012, Rickman quietly married his childhood sweetheart and longtime love Rima Horton. "It was great, because no one was there," Rickman told Bild Magazine, according to his biography. "After the ceremony in New York, we walked across the Brooklyn Bridge and ate lunch."
Get the five stories that will challenge you to rethink the world by signing up for MicCheck Daily.