Michigan Attorney General Will Look for Criminal Wrongdoing in Flint Water Crisis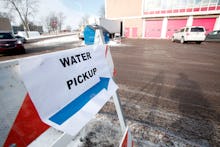 Several months after Michigan's political leaders finally decided to take the Flint water crisis seriously, state Attorney General Bill Schuette announced Thursday he will investigate the disaster.
"As attorney general, I will investigate this situation to determine if any Michigan state laws have been broken," Schuette said in a press release. "Without fear or favor, I will carry out my responsibility to enforce the laws meant to protect Michigan families and represent the citizens of Flint."
It's a sharp turnaround from January 2015, when state and local officials were scrambling to convince their constituents that the stinky brown liquid oozing from Flint's faucets was viable drinking water. 
A class-action lawsuit claiming Flint's leaders and Michigan Gov. Rick Snyder replaced the city's clean water with what is essentially poison was filed on behalf of residents in November. Filmmaker and Flint native Michael Moore has also publicly called for Snyder's arrest.
The attorney general's investigation was a long time coming. High levels of toxic chemicals — including lead — have been found in Flint's drinking supply since shortly after the city switched its water source in 2014. Previously, the city had planned to build a pipeline funneling water from Lake Huron into Flint so it wouldn't have to keep buying water from Detroit.
But when Detroit cut off its water sales to Flint early, the city changed its source to the Flint River to hold it over while the Huron pipeline was under construction. Flint River water proved to be exceptionally corrosive, causing lead from the pipes it was traveling through to enter the supply. It took more than a year of testing, people getting sick and even an alleged government cover-up for officials to admit they had a huge problem.
In October, Snyder announced a multimillion dollar plan to switch Flint's water source back to the Detroit system. Earlier this week, he activated the Michigan National Guard to pass out bottled water and filters to residents. And on Friday, the governor asked the Obama administration to issue "an emergency and major disaster declaration" for Flint, according to the New York Daily News.
If granted, the declaration would entitle Flint to federal government assistance, possibly including temporary housing and home repairs, and help in fixing the water system.