Kendrick Lamar to Receive Key to the City of Compton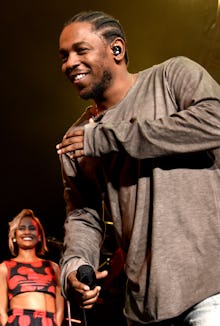 The accolades just keep rolling in for Kendrick Lamar. Following the 11 Grammy nominations he received for this year's Grammys — one short of Michael Jackson's record — and his previous Generational Icon award, the west coast rapper is set to receive another civic honor, this one coming from his hometown of Compton, California.
On Thursday Compton Mayor Aja Brown tweeted news that Lamar would be receiving the key to the city in a special, Feb. 13 ceremony. "You inspire millions and rep Compton with honor!" Brown tweeted. 
"I appreciate that," Lamar responded simply, "HUBLUV," in a nod to Compton's nickname "Hub City." 
"Kendrick Lamar is a phenomenal artist whose work has served as a catalyst to raise a new level of consciousness for this generation," Brown said in an official statement on the city's website. "His message challenges the status quo and motivates listeners to rethink our society's institutions. I believe Kendrick Lamar is not only an artist, but an influencer of an entire generation." 
The mayor cited his "philanthropic work and his ongoing commitment to the community" — two things California's 35th Senate District also cited when presenting Lamar with its Generational Icon award in May.
"If you visit Compton ... Mr. Lamar is a familiar face in the neighborhood ... giving back to his community that raised him," California state Sen. Isadore Hall III said during that ceremony. "He has personally donated hundreds of thousands of dollars to support sports programs, after school programs, music programs in the Compton Unified School District to help keep Compton students off the streets and in the classroom."
Lamar responded with a short, but sweet thank you, revealing that this kind of work has always been a goal at the back of his mind. "Being from the City of Compton and knowing the parks that I played at and the neighborhoods, I always thought how great the opportunity would be to give back to my community off of what I do in music," he said. "I thank you from the bottom of my heart for honoring me."
This responsibility to support one's community is the realization of a message that weaves throughout Lamar's body of work. 
"My new meaning for 'keepin' it gangsta' is totally different from the usual," Lamar told Mass Appeal about the change he aims for his music to create. "It's really about takin' care of your family, handlin' your business and puttin' positive energy out there where everybody can benefit from it, not just yourself."
President Barack Obama also recently honored Lamar's civic leadership with an audience at the White House. According to a PSA created in collaboration with the National Mentoring Partnership and My Brother's Keeper, Lamar revealed he and Obama discussed mentorship and other "topics concerning the inner cities, the problem, the solutions and furthermore embracing the youth."
This latest honor coming from the City of Compton only adds more legitimacy to his leadership — musically and otherwise. His claim on "King Kunta" that he'll "probably run for mayor when I'm done, to be honest," seems like a better idea with each passing honor.