This Angolan Family Is Suing the Makers of 'Call of Duty' — Here's Why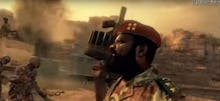 The family of Angolan rebel chief Jonas Savimbi is suing popular game maker Activision for depicting him as a "barbarian" in the 2012 video game Call of Duty: Black Ops II, according to Agence France-Presse. Savimbi's three children are demanding 1 million euros in compensation for damages to their father's reputation.
Savimbi founded and led the National Union for the Total Independence of Angola, an anticommunist political movement in the region that battled the Popular Movement for the Liberation of Angola, which controlled the government after the country was liberated from Portuguese rule. Savimbi died in 2002 in combat. Not long after, the Angolan government struck a peace deal with rebel forces. The 27-year conflict had resulted in half a million deaths.
In Call of Duty, argued the family's lawyer, Savimbi is portrayed as a "big halfwit who wants to kill everybody," which the family feels is a misrepresentation. Rather, the complaint notes, Savimbi was a political leader and political strategist.
Activision disagrees with the family's assessment of Savimbi's portrayal, saying that the game represents the warlord as "a character of Angolan history, a guerrilla chief who fought the MPLA," the company's lawyer Etienne Kowalski said, according to the AFP report. Kowalski said the game sheds "favorable light" on the historical character, painting him as a "good guy who comes to help the heroes."
As the AFP notes, this isn't the first time that a family member of a historical figure has sued a gaming company over misrepresentation. Manuel Noriega, a Panama dictator, has also been featured in a Call of Duty video game and sued Activision in 2014 for casting him in a bad light. The case was eventually thrown out of court.