This Bloody Great Period Art Exhibition Wants to Change the Way We Talk About Menstruation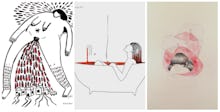 Whether we're telling people it's that "time of the month," Aunt Flo is in town or that we're surfing the crimson wave, it can be really, really hard to talk about periods. Menstruation is still a taboo in our culture, which forces to come up with creative ways to talk about what happens to our bodies, or else run the risk of facing shame and stigma.
That's why Australian sanitary pad company Tsuno is collaborating with the art gallery Enough for an exhibit that hopes to change the way we talk about periods. The exhibit, titled Shark Week, features a series of images that bring the polite euphemisms we use to talk about menstruation to life, in quirky, brutally frank detail. 
Here's "A Friend Visits," by artist Filthy Ratbag:
Here's artist Frances Cannon's take on the term "monsoon season":
Tsuno founder Roz Campbell believes that the exhibit could help people realize that periods — which are, y'know, a thing that about half the population deals with on a regular basis — shouldn't be shrouded in mysterious, coded language that often bears no relation to the actual experience of menstruation. 
The euphemism that inspired her to create the exhibition, she told Australian website SBS, was "I'm having my garage painted."
"I wanted to get people thinking about just why [this language] is so ridiculous," Campbell told the site. "I wanted to find out what would happen if you interpreted [these euphemisms] literally... and that idea turned into the exhibition."
This new exhibit is just the latest in a recent boom of period-related art. Artist Jen Lewis used her own period blood in a photography exhibit last year, while other artists have used their period blood as paint in an artistic tradition known as Menstrala. Whatever the art form, the message behind such period-centric art is typically the same: to de-stigmatize a perfectly natural bodily function that women are inexplicably shamed for on a routine basis.
The exhibition opens Friday in Australia and runs through January 31.