Mos Def Arrested in South Africa for Violating Immigration Laws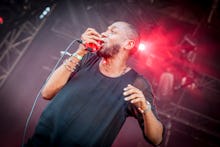 Mark Horton/Getty Images
On Thursday, 42-year-old American rapper Mos Def, who was born Dante Smith, was arrested in South Africa for violating immigration laws, the Associated Press reported. The musician, who in 2012 changed his name to Yasiin Bey, has been living in South Africa since 2013, and was allegedly stopped by customs for attempting to use something called a "word passport" to travel internationally, Department of Home Affairs spokesman Mayihlome Tshwete told the AP.
According to the AP, the recording artist and New York City native has 14 days to leave South Africa after his attempt to travel with improper visa documents. The recording artist was allegedly traveling with family members out of Cape Town International Airport, Tshwete told the AP, explaining that to be served a court order to leave the country means the rapper is barred from reentering South Africa for five years, though an appeal process is possible. 
The artist formerly known as Mos Def has also had a varied acting career, and has appeared in films such as Life of Crime (2013) and the Hitchhiker's Guide to the Galaxy (2005) and in television shows such as Chappelle's Show and Dexter. 
The last studio album from the musician was The Ecstatic, which was released in 2009. 
Jan. 15, 2016, 10:25 a.m. Eastern: This story has been updated.