Santigold Releases New Reggae-Inspired Song and Video "Chasing Shadows"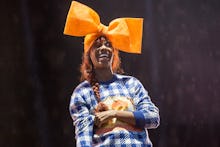 It's been four years since indie electronic artist Santigold released a full-length project. However, that long, dry spell is about to come to an end. Promotion for Santigold's long awaited third full-length album, titled 99¢, has been ramping up in earnest. As part of that, on Thursday night, the artist shared her third single during an airing of Annie Mac's BBC Radio 1 show. 
On "Chasing Shadows," Santigold spits a melodic double time flow over an off-kilter reggae-esque beat. The song also comes with an accompanying video, which can be viewed in full via Tidal. On Friday, Santigold shared a 15-second clip via Twitter, and the song it still available in the BBC's player by skipping ahead to the 59:25 mark.
This is the third song shared off Santigold's upcoming record. The title 99¢ and the cover of the album, which depicts Santigold shrinkwrapped in a package with a bunch of keyboards and other musical junk, are intended to satirize today's brand-heavy, commodified culture. 
"We have no illusion that we don't live in this world where everything is packaged," the artist shared in a press release. "People's lives, persona, everything, is deliberate, and mediated. It can be dark and haunting and tricky, and freak us out, but it can be also be silly and fun and we can learn to play with it."
In November, Santigold announced the album and released the first cut, the disorientingly chipper "I Can't Get Enough of Myself." Later that month, she released the album's second single, "Who Be Lovin' Me," featuring "Tuesday" rapper iLoveMakonnen. That track came with a star-studded video that essentially functions as a who's who in today's hip-hop: Earl Sweatshirt, A-Trak, Big Sean, De La Soul, Meek Mill and Vic Mensa all make appearances to hitch a ride in Santigold's mini golf-cart Escalade.
The album was originally scheduled to drop January 22, but it's been pushed back to the end of February. Hopefully, all these playful gems will hold fans over until they can unwrap 99¢'s suffocating shrink wrap and free Santigold.