Zoolander Just Landed a Vogue Cover — Yes, a Real-Life Vogue Cover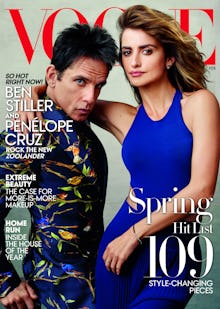 Zoolander is not only back, he's pretty much everywhere — in CIROC vodka ads shot by Mario Testino, on the Valentino runway at Milan Fashion Week, in a spoof of Making a Murderer that's haunting our dreams.
Now Zoolander (aka Ben Stiller, going really hard on this method acting thing) is on the cover of the latest issue of Vogue. 
Yes — a real, live, buy-it-on-newsstands, read-it-while-your-pedicure-is-drying issue of Vogue.
Stiller is joined by "femme fatale Penélope Cruz," as the magazine described her in a press release, to herald the Zoolander sequel back into theaters and thus inescapably back into our lives.
He is also joined by top models Jourdan Dunn, Joan Smalls and the equally ubiquitous Gigi Hadid in the photo shoot inside the magazine, shot by Annie Leibovitz. 
Scoring a Vogue cover is arguably the apotheosis of fashion's embrace of Zoolander, as both a film and a character. Very few celebrities ever get to pose for Vogue covers — it was heralded as a big deal when Beyoncé recently found herself there, and the Anna Wintour-led magazine tends to feature a rotating cast of favorite actresses again and again.
But Ben Stiller earned a spot, just like he's earned a spot on fashion's most coveted runways and at the most exclusive parties. In an email news alert to readers on Friday, Vogue shared the new cover story as well as six more stories related to the new Zoolander movie. 
"Fashion can be very serious but it can also be fun too," Maria Grazia Chiuri of Valentino told Dazed after Stiller and Zoolander co-star Owen Wilson crashed the runway (with permission) at the Valentino show back in March 2015. "I loved the first film, I watched it when I was really young."
As the Cut reported, it wasn't just the show that Zoolander crashed. "Stiller 'borrowed' a Vine star's phone to take a Snapchat selfie; Derek and Hansel met with Anna Wintour backstage and then staged a photo shoot in front of the Eiffel Tower with Street Peeper's Phil Oh. Snapchat even introduced a special 'Blue Steel' filter in honor of the occasion."
Why all the love? Call it peak corporate convergence, with one incredibly powerful industry meeting another for what everyone hopes is a major pop culture payoff. Zoolander didn't actually hit big in theaters when it first dropped in 2001, only grossing $45 million domestically, but it went on to become its own cultural institution, the source of jokes and references (hello, Blue Steel) for over a decade. As Stiller told reporters at CinemaCon in April 2015, "Zoolander 2 is going to drop like a giant bomb — only a good bomb where that explodes with all this money that you can keep."
Will all the fashion industry tie-ins propel the new Zoolander to higher heights? Perhaps. In the meantime, you can now check out Stiller's pursed lips on your nightstand or your local mani-pedi place — you know, in case you decide to skip the actual movie.