Adam Lambert to Appear in the New TV Adaptation of 'The Rocky Horror Picture Show'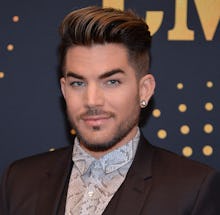 TV gave Adam Lambert his stardom, but it's never let him fully let loose. The 33-year-old pop star rose to fame through fairly conventional means — as a runner-up on American Idol's eighth season — before going on to guest star on Glee. However, his latest television role may finally offer the best opportunity yet for him to embrace his weird in front of the world.
As first reported by the Hollywood Reporter, Lambert will be appearing in Fox's upcoming television production of the liberated and queer cult classic The Rocky Horror Picture Show.
"I grew up watching Rocky Horror, but could never imagine that I would be part of this new vision," Lambert told the Hollywood Reporter Thursday. "Rocky Horror always made me feel like it was OK to celebrate my weirdness. Hallelujah, bless my soul! I love that old time rock 'n' roll!" 
He'll be playing the rock 'n' roll-loving biker boy Eddie, formerly played by Meat Loaf. With Lambert at the handlebars, we may have a very different Eddie on our hands.
Lambert was originally considered to fill Tim Curry's original high-heels in the role of the "Sweet Transvestite" mad scientist Dr. Frank-N-Furter, sources told the Hollywood Reporter. However, lauded trans actress Laverne Cox of Orange Is the New Black fame will take that mantle. She similarly described the film as an inspiration growing up.
"It's a dream come true," Cox told E! in an interview released Tuesday. "The young adult Laverne Cox was shaped by Rocky Horror. Like so many people who felt they didn't fit in, who were outcasts, Rocky Horror was the thing. Hopefully it will be that for a new generation."
On Thursday Cox congratulated Lambert on Twitter for grabbing the role in the production.
The rest of the Lambert's fanbase followed suit.
Lambert also joins singer and model Staz Nair as the stud Rocky Horror, Reeve Carney as Riff Raff and Ryan McCartan and Victoria Justice playing Brad and Janet, respectively. Curry will also be involved, this time around playing the Criminologist, who serves as the story's narrator. The special is set for fall 2016, with no specific date yet.