With One Hashtag, Female Astronomers Share Their Heartbreaking Stories of Harassment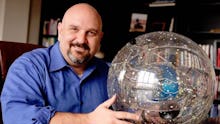 The scientific community is rife with harassment, often sexual, and women have had enough. 
Confronting the problem is long overdue in the realm of STEM and is being addressed in a variety of ways. California Congresswoman Jackie Speier is calling on Congress and the Department of Education to reassess policies that don't require universities to make public when their professors sexually harass students, for example, and now there's the simple hashtag: #astroSH.
#astroSH encourages people in the world of STEM to share their stories of harassment and has subsequently been used by people to offer support. 
Stories have ranged from objectifying female students and colleagues to run-of-the-mill sexism, like suggesting a women's place is in the kitchen.
One such example is eminent astronomer Timothy Frederick Slater, who decided to leave the University of Arizona in 2004, after it learned of his repeated sexual harassment, only to get offered a coveted professorship at the University of Wyoming. 
Slater's misconduct included "giving them [students] sex toys as gifts, making remarks about their underwear and breasts, and having business meetings at a strip club," the New York Times reports. 
Speier, who has been spearheading the fight for accountability, wondered whether the University of Wyoming knew the reason for his leaving his prior position. 
In a public letter to the DOE's Office of Civil Rights, Speier specifically mentioned Slater's story. "The Slater case, while lurid, is just a symptom of a much larger problem — how to prevent harassment, and effectively deal with it when it occurs," she writes.
Speier also mentions the University of California at Berkeley's famed exoplanet hunter Geoffrey Marcy, who's been considered for a Nobel Prize in Physics and has recently become shrouded in controversy regarding sexual harassment allegations.  
"This example shows why so few women continue careers in science and engineering. Some universities protect predatory professors with slaps on the wrist and secrecy, just like the Catholic Church sheltered child-molesting priests for many decades," Speier said during an impassioned speech Tuesday, on the floor of the House of Representatives. 
"I encourage anyone who has experienced sexual harassment in science, whether it's related to this incident or another, to call my office. Students enter astronomy to study the stars, not the professor's sex life," she added.
Correction: Jan. 19, 2016