People Are Using Martin Luther King Jr.'s Birthday to Share Their Dreams for 2016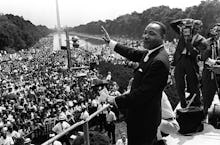 A day ahead of Martin Luther King Jr.'s birthday, which is on Friday, some people used the hashtag #IHaveADreamFor2016 to celebrate the civil rights activist's 87th birthday.
2015 brought a lot of racial tension: Police brutality, Islamophobia and anti-immigrant sentiment dominated headlines. But there was also some serious activism — Black Lives Matter and University of Missouri protests, for example — and some people hope that King's spirit will help us find peace and progress in 2016. 
More than 50 years after his iconic "I Have a Dream" speech, it's clear that King's dream lives on.