The Reason France's Bial Painkiller Experiment Went Horribly Wrong Wasn't Cannabis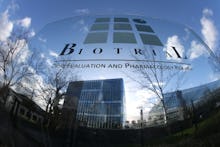 David Vincent/AP
Portuguese drug firm Bial made headlines Friday after the French health ministry said one of the company's drug trials had brain damaged at least one person and injured at least five others, according to Reuters. A Bial representative told the Wall Street Journal it was preparing a statement but declined to comment further. According to Reuters, the drug works by engaging with a body's endocannabinoid system, which is linked to pain control and is also the part of the human body that responds to cannabis, the plant from which marijuana is derived. Because of this, confused reports that the botched drug trial was linked to the dangers of marijuana were quickly put to rest.
The drug was tested by Biotrial laboratory in Rennes, to the west of France, on Bial's behalf, and Reuters rep reported 90 volunteers participated in the trial. The experiment involved taking the drug orally, however some of those participating in the study were given placebos. The drug was in its first phase of testing, according to the Journal, and aimed to help treat health issues linked to degenerative diseases.
"This test was performed in a licensed, private institution specializing in the conduct of clinical trials in order to evaluate the safety, tolerability [and] pharmacological profiles of this molecule in healthy volunteers," a statement in French from the French health ministry said Friday.
According to the statement, Bial informed France's national security branch charged with regulating health products, l'Agence Nationale de sécurité du Médicament et des produits de santé, or ANSM, it was halting the experiment and recalling all the participants who volunteered for the drug trial.
Furthermore, the ANSM said in its statement it will continue to investigate the conditions of the clinical trial's site; upon hearing the news of the botched drug trial, France's minister of social affairs and health, Marisol Touraine, called on the General Inspectorate of Social Affairs to begin an inspection into the organization's practices.
"Touraine wants to share all her solidarity and determination with the families of patients to get to the bottom of and establish all responsibilities in this tragic accident," the statement concluded, adding that a press conference would be held in Rennes and that Turaine will attend.
In a press conference Friday, Touraine said the experimental drug "contained neither cannabis nor any substance derived from cannabis," Reuters reported. During the conference, Touraine confirmed the drug trial's volunteers were all males, ages 28 to 49, and that the first sign of illness began Sunday.
"What's happened is unprecedented," she said, according to the Journal, adding that the French government has "never seen any trace of a similar accident" and promised to "shed light on this tragic accident and find all those responsible."