James Corden's "Carpool Karaoke" Is the Best Thing About Late Night Right Now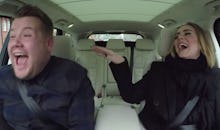 Jimmy Fallon's dominance has changed the late night landscape. His version of The Tonight Show runs on games and sketches designed to take celebrities out of their comfort zones. Seth Meyers is doing more offbeat stuff, while Jimmy Kimmel has staples like his notorious "Mean Tweets."
Meanwhile, newcomer James Corden, who took over The Late Late Show from Craig Ferguson in March, has figured out how to give viewers the best of both worlds. His "Carpool Karaoke" segment, which gained a whole new audience this week with his massive Adele edition, wraps a real interview into a fun, Fallon-like bit. In the process, it's become a sensation.
The first iteration of "Carpool Karaoke" was with the elusive chanteuse herself, Mariah Carey. Donning a pair of black sunglasses, Carey joined Corden in breezing through some of her biggest hits, like "Always Be My Baby" and "Vision of Love." She even indulged in her love of accents with him. The sketch immediately went viral and has garnered nearly 15 million views to date. 
After that, the doors opened for a slew of celebrities to get in the car with him. Everyone from Jennifer Hudson to Justin Bieber to Carrie Underwood have carpooled with Corden. Adele joining him for the most recent installment, however, took it to another level.
During the nearly 15-minute segment that's racked up 21 million views so far, the two blazed through her hits "Hello," "Rolling In The Deep" and "Someone Like You." They even sang "Wannabe" by the Spice Girls, and Adele rapped Nicki Minaj's verse on "Monster." But amid the singing, Corden asked astute questions of the superstar, digging up surprising insights. 
Adele was her typical, infectious self, spilling the tea — both figuratively and literally. Among the information Corden learned: Adele's next album won't be titled after her age of recording, she played the drums on "Hello" and is a huge Spice Girls fan. 
Perhaps most charming: While waiting for a friend at a bar recently, she drank too many glasses of wine later. In her drunken fugue, she paid for the dinner of the table next to her.
By cramming these musicians into a car for a fun singalong session, audiences learn a lot about his guests. When he drove around with Hudson, she mentioned she worked at a Burger King before she became famous. When Bieber joined him, the young star showed off some self-awareness. Even the usually reclusive Underwood spilled a bit about her personal life. It even tugs at the heartstrings; when he had Stevie Wonder on, he got the icon to call his wife and sing "I Just Called To Say I Love You."
Late night is overflowing with wigs, boxes filled with lies and lip-syncing. In many ways, The Late Late Show with James Corden is following suit. But "Carpool Karaoke" stands out as a mix of real questions and fun. It's easily the best part of late night right now, and an example of what still-emerging hosts (looking at you, Stephen Colbert and Trevor Noah) can do to stand out.