Fox Just Ordered 'Pitch,' a Drama Pilot That Follows a Female Baseball Player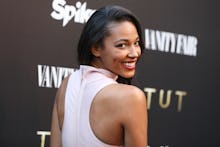 Has TV finally found a league of its own?
Variety reports that Fox has ordered Pitch, a new drama from Crazy, Stupid, Love screenwriter Dan Fogelman. The pilot will tell the story of a female baseball player (played by Under the Dome's Kylie Bunbury) who becomes the first female major-league player.
As a pilot order, Pitch could potentially not get picked up to series. The list of series that got stuck in the pilot phase is several miles long — remember CBS' attempted How I Met Your Mother spinoff How I Met Your Dad? Yet from both a business and quality perspective, this would seem like an easy call.
On the qualitative scale, it's a series that isn't yet another procedural or grim antihero drama. There isn't any show on air right now set in the world of baseball, much less one with a gendered angle, so Pitch would instantly stand out.
And from a commercial perspective, Fox has the opportunity to take a bet on a series with a black woman triumphing in a male-dominated world. As shows like Empire have proven, diversity and representation sell. Audiences want these stories, yet there's still a dearth of them. Something like Pitch could very likely be a hit.
So yes, it's early days for Pitch. But considering all the show has going for it already, it'd be a surprise not to see it on Fox's starting lineup come fall.