Everyone's Clueless as to Who Won the Powerball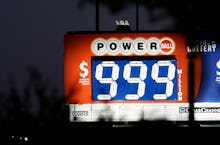 LM Otero/AP
A Tennessee family appeared on NBC's Today show Friday claiming to possess a winning Powerball ticket, one of three purchased across the country. Married couple John and Lisa Robinson, from winning town Munford, Tennessee, bought four tickets right before Wednesday night's drawing, according to Today. However, as of Friday, the Tennessee Lottery has yet to confirm the win — Today even included "winning ticket" in quotation marks on viewers' screens. NBC said they had independently confirmed the winner. 
Since Wednesday, there has been no shortage of people claiming to have won the Powerball, however the official winners have yet to come forward, at least not ones whose wins were verified. This past week, the jackpot had grown to a historic $1.6 billion. The odds of winning were 1 in 292.2 million, and for context, that meant ticket-buyers had a better chance of being elected president than becoming an instant billionaire.
Wednesday's drawing yielded winning tickets in three locations — Chino Hills, California; Munford, Tennessee; and Melbourne Beach, Florida, USA Today reported. That amounts to $533 million per person before taxes, according to USA Today.
The winning numbers are 4, 8, 19, 27, 34 and Powerball 10. Powerball tickets are sold in 44 states and the District of Columbia and some players won up to $2 million, CBS News reported.
With $1.6 billion on the line, some alleged winners have come forward. But as of Friday afternoon, no one is a confirmed winner. 
Read more:
On Thursday, a 62-year-old Pomona, California nurse, and mother of seven, was told she was a winner of one of the three tickets. A representative for the Park Avenue Health Care and Wellness Center, where she works, could neither confirm nor deny the news, Mic previously reported. 
It turned out the nurse's son allegedly called her to give her the supposedly life-changing news, the New York Daily News reported. But the nurse's other children claim it was an "embarrassing" — and cruel — prank. 
Skateboarder Erik Bragg posted a picture of himself Thursday night holding a winning ticket on Instagram, with a caption that reads, "I'm posting this in case anyone tries to jack me this is proof! Look it up, I bought it in Chino Hills where I grew up!" He later posted he would be appearing Monday on Jimmy Kimmel Live!
Twitter users tweeted that the ticket had been Photoshopped. Multiple Twitter accounts, some of which are suspended, claiming to be Bragg have been created. A few of the accounts even tweeted that anyone who retweets and follows would win a cut of his shares, USA Today reported.
"Actually, [I was] a little scared because I didn't know exactly what do to,'' John Robinson said, according to Today. "I knew that I wanted to get an accountant. I knew that I wanted to get a lawyer and try to follow the procedures that they tell you to follow."
The instant fame and fear of safety could be keeping winners hush-hush. But in California, winners have a year to claim the money until it automatically goes to schools, while the winners in Tennessee and Florida have 180 days, CBS News reported.