People of Flint Want You to See These Images of the Water They Were Told Was Safe to Drink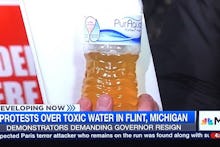 Flint, Michigan, is facing a manmade public health crisis. 
Its inhabitants were repeatedly told by government officials that visibly contaminated tap water was safe to drink. And now the young children of Flint may have suffered irreparable lead poisoning. 
In April 2014, Michigan Gov. Rick Snyder decided to switch Flint's water source from the Detroit water system to the Flint River in a cost-cutting measure. Not long after the switch, complaints began streaming in regarding the quality of the water. 
Despite civic concerns, officials assured residents there was nothing to worry about, but to assuage the people's anxieties, the city said, they would provide free water filters.
Even after Snyder's office became concerned in July about the quality of the water, the switch back still wasn't made until October, 18 months after the change.
On Dec. 14, Flint mayor Karen Weaver declared a state of emergency. Less than a month later, Gov. Snyder followed suit and declared a state of emergency on Jan. 6. 
On Nov. 13, a number of Flint residents filed a class-action lawsuit; among the defendants are Gov. Snyder and the State of Michigan. 
The plaintiffs allege those involved in changing — and maintaining — the switch in water source caused "serious personal injury" by exposing them to "the extreme toxicity of water pumped from the Flint River into their homes, schools, hospitals, workplaces and public places."
The primary concern amongst Flint residents is for small children who consumed the water while the city was sourcing from the Flint River, as the water had levels of lead potentially harmful to the young.
"Lead is highly toxic, especially to young children," the Centers for Disease Control and Prevention explains. "It can harm a child's brain, kidneys, bone marrow and other body systems. At high levels, lead can cause coma, convulsions and death."
Below is a series of 11 images of Flint water, while it was being sourced from the Flint River, shared on social media. These are images of the very same water authorities assured people was safe to drink.
It's safe to say there's something in the water...