What It's Like To Look For Love On Tinder When You're Polyamorous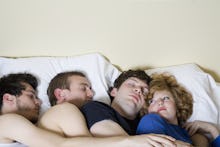 When Marcus*, 37, messages someone on OkCupid, he always asks one question: "Did you read my profile?" Usually, the answer is no. "Then they'll say, 'Wait, you're MARRIED?!?!'," Marcus told Mic. 
Marcus's marital status is clearly visible on his profile; it's right there on the top of the page. But users clicking and swiping quickly through a seemingly endless sea of options don't always read the fine print. So when people find out that he's married, they often get angry.
"[One person said] 'I'm not going to help you cheat,'" Marcus told Mic. "And then there was a guy who was convinced if he went on a date with me it would break up my marriage."
From Marcus's point of view, that isn't likely. He's been with his wife for eight years. They have two children, and as of one year ago, when they agreed to open up their relationship, they are also polyamorous.
Polyamory comes in a wide range of forms: A couple might seek a third partner to date together, they might date other couples, or they may date independently. All of this is done openly, with respect for the needs and feelings of others.
According to the book The Ethical Slut, a text that has been referred to as the "poly bible,"  the term "polyamory" was coined in the early '90s. Yet polyamory isn't anything new: Evidence of polyamorous arrangements can be found in ancient Mesopotamia, ancient Greece and ancient Egypt, among other historical civilizations.
But thanks to the vast new world of online dating apps, contemporary poly couples and singles are slowly finding their way into the mainstream. While it's difficult to track exactly how many polyamorous couples are living in the United States, due to the closeted nature of so many poly arrangements, one estimate puts the number at anywhere between 1.2 and 2.4 million — and that number is likely growing.
Now, the most popular dating apps and websites are making changes to keep pace. Last Friday, OKCupid launched a new feature that allows those who list themselves as married or in an open relationship to link their profile with their partner's.
In an interview with The Atlantic, OKCupid's chief product officer, Jimena Almendares, said the feature was intended to create a more open and inclusive environment for polyamorous people. "Finding your partner is very important," Almendares said. "You should have the option to express specifically and exactly who you are and what you need."
This isn't the first time OKCupid has acknowledged the needs of its poly users. In 2014, the site introduced the "open relationship" setting, which Marcus had also used to link his wife's profile to his. And indeed, apps have been helpful in connecting polyamorous people with other partners, while simultaneously allowing them to be as transparent about their circumstances as possible.
"The fact is that a lot of folks wouldn't necessarily entertain a poly relationship, so if I were to [seek partners] without the app, I'd probably have a lot of dead end conversations or awkward moments," Marcus told Mic. "[It's important to] make sure no one feels tricked, or like I've wasted their time," he added.
Gray*, a 32-year-old Brooklyn-based artist and social justice worker, defines himself as "solo poly," meaning that he dates without a primary partner.
Gray describes himself as open to maintaining long-term invested relationships with multiple people, but he's also open to living with a partner or multiple partners or friends. He's currently seeing someone that he met on an app.
"Essentially I'm dating and being completely explicit with whoever I'm dating [about my status]... We're keeping our own autonomy and remaining open," Gray told Mic. "We're being respectful and negotiating — we ask about each other's dates and all of that — but we're not telling each other what to do."
When Gray was previously in an open relationship, he primarily used OKCupid. Now, he frequents apps that he considers more "queer and diverse," like Scruff. That's in part because Gray self-identifies as "a very genderqueer trans person who dates and sleeps with people across the gender spectrum," which makes it difficult to find people on mainstream apps. But he's also found that apps with more queer people tend to be more open to being poly. 
Yet Gray noted that in spite of stating what you're looking for explicitly, you might not always get quite what you ordered. "I met my last partner on Scruff and I was specifically into him because he identified as poly and was involved in a lot of different relationships when we met. But we ended up in a monogamous relationship."
"I've learned to be really clear on my profile and name things I'm looking for — or be upfront when I'm picking someone up," Gray said. "It's a delicate dance to balance taking initiative, keeping a chat going, and not [coming] off as too thirsty, but I'm more active as a seeker now because if I just see what comes my way I'm usually not at all interested in those folks."
Even if people like Marcus and Gray are open about their statuses, there's still a stigma attached to dating as a polyamorous person. On websites like OkCupid and dating apps like Tinder, people who describe themselves as poly tend to receive messages from people who either assume that they're cheating on their spouses, or that they're inherently promiscuous and up for anything. That sentiment was reflected in BroBible's coverage of OkCupid's new feature, which cheered the new feature as a terrific way to find threesomes.
Hannah*, a filmmaker in her mid-thirties, was in an open relationship for several years. When it ended, she downloaded Tinder, assuming that if she were open about her poly status, she'd be more likely to attract like-minded partners.  
"We generally don't say how we identify when we meet people in person. Online, we put out signposts that — in the best case scenario — attract compatible people," she explained.
Unlike Gray, who is open to polyamorous arrangements of all sorts, Hannah wants to have a primary partner in addition to multiple partners.  "I felt that I wanted to find someone [who] could be a partner, and that person would feel similarly about how fun it is to experience being with new people occasionally," she explained.
While her profile generated some interest from potential partners, Hannah found that finding someone who was open to a polyamorous relationship was a tough task. That's in part because she's pregnant, a fact that she listed on her profile. "It was really hard to tell if the interest was genuine or fetish-y...[I'd like to] think people respond to honesty, vulnerability, and uniqueness," she said.
Hannah eventually withdrew from online dating because, like many online daters, she felt what she was looking for wasn't out there. "I went on a date where I kept thinking to myself, 'I could be eating ice cream right now,'" Hannah said.
"It was really hard to tell if the interest was genuine or fetish-y."
Much as it is for users who identify as monogamous, online dating for poly users is not without hiccups and frustrations. And the frustrations of poly people on dating apps are similar to those of monogamous people: Sometimes, you just don't find anyone you connect with. Above all, the polyamorous people Mic spoke with weren't just seeking sex on dating apps; they were seeking companionship and meaningful connections.
But Marcus is hopeful that poly people on online dating apps may give way to more open attitudes toward the poly lifestyle.
"My wife will get messages from married guys on the down low occasionally, but Dan Savage and books like The Ethical Slut have made the ethical side of nonmonogamy a more commonplace trend," Marcus said.
Hannah agreed. "The fact that we're experiencing much more acceptance of difference in both gender and sexuality is a good sign," she said. "And I'm certainly thinking about how I'll raise my daughter in our slowly developing society."
*First names have been changed to allow subjects to speak freely about private matters.