Fox Is Bringing Back '24' With an African-American or Latino Lead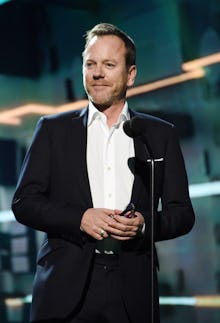 Jeffrey Mayer/Getty Images
On Friday, fans of action thriller television series 24 got a bit of good news to kick off the weekend. According to Entertainment Weekly, the show's producers are looking to pilot a reboot of the series with a whole new cast and, more importantly, an African-American or Latino actor will be cast as the lead. And the good news continues, as the lead will also be flanked by a co-star and leading lady, according to EW. The new series, which has get to get a confirmed release date, will boast 12 episodes instead of the traditional 24 and will be called 24: Legacy. 
The cast has yet to be decided, and producers are aiming to film the series pilot sometime this winter. "We wanted [the lead] to be as different from Jack Bauer as possible, whether that's an African-American or a Latino actor," said Fox Television co-chairman and CEO Dana Walden, according to EW. 
"As envisioned, the lead character would be diverse, so that will be our first effort in casting," said Walden's co-chairman and co-CEO Gary Newman, EW reports. "As always, we're going to cast the best actor we can find for the role. As you can imagine, bringing 24 back, we want to really try to create some distinction and make this feel different than Jack Bauer's 24, so having a diverse actor in that lead role I think would be helpful in doing that."
"The pilot will feature an all-new cast of characters and retain the real-time, pulse-pounding, fast-paced format with split screens and complex interweaving storylines, with each episode representing one hour of an eventful day," according to a Friday statement from Fox. 
In the comments section of the EW story, some readers were dismayed at Kiefer Sutherland's alleged absence from the return of 24. "Nope, there is no 24 without Jack Bauer," wrote one user. "Huge mistake." Another commenter added, "Way to go Fox, you just killed the show. It's like The Walking Dead killing Rick. Political correctness ruining everything again."
Some fans echoed that sentiment on Twitter, while others welcomed the news and applauded Fox's casting announcement.
And according to Fox, the series is getting a whole new plot line. "The project will revolve around a military hero's return to the U.S. and the trouble that follows him back – compelling him to ask CTU for help in saving his life, and stopping what potentially could be one of the largest-scale terror attacks on American soil," the network explained in its Friday release. 
When the 24 series first debuted in the early 2000s, it took viewers by storm. In 2001, the New York Times awarded the show a sterling review. 
For those who missed the hype when the show debuted more than a decade ago: the season format takes place during the course of one day, and each episode represents one hour of that day. The premise of the original series follows a fictional character called Jack Bauer, played by Sutherland, a Canadian actor born in Britain. In the series, Sutherland's character is the director of field operations for Los Angeles' counter terrorism who battles terrorism and crime at home and abroad. 
Robert Cochran and Joel Surnow created the show, and the new series will be spearheaded by 24 executive producers Howard Gordon, Manny Coto and Evan Katz, according to Fox. In the Times review from 2001,  the publication's Caryn James called the show "a drama sleek, suspenseful and absorbing enough to overcome its blatant gimmick."