Even Steven Avery's Attorneys Aren't so Sure He's Innocent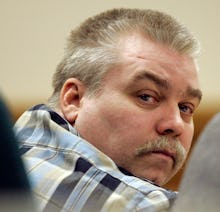 Morry Gash/AP
The attorneys for Steven Avery, the subject of the popular Netflix docu-series Making a Murderer who was convicted in the 2005 murder of Teresa Halbach, said they're not so sure their client was innocent. The 10-part series put Manitowoc County, Wisconsin, on the map and shed light on what many said was a botched investigation into Halbach's murder, leading many viewers to believe Avery had been wrongly accused. 
In an interview Friday with CBS This Morning — their first together since Making a Murderer was released in December — defense attorneys Dean Strang and Jerry Buting talked about the show, the evidence producers left out and the question of Avery's culpability. Strang said, despite having defended Avery, there was "absolutely" some doubt about his innocence. 
"If it was OK to convict people on maybes, I wouldn't be worried about this," Strang told CBS This Morning. "But it's not."
Read more: 
Avery's story started long before his 2005 conviction. In 1985, he was jailed for a sexual assault conviction — a conviction that would, 18 years later, be overturned. Avery was released in 2003 after DNA evidence exonerated him. He later sued Manitowoc County officials for $36 million, a move many thought could have prompted law enforcement to go after Avery for Halbach's murder. 
Making a Murderer focused not only on Avery's wrongful imprisonment for rape, but his 2005 trial for Halbach's murder. Throughout the over 200-hour trial, Strang and Buting argued law enforcement had planted evidence against Avery, including accusing police of placing Halbach's car key in Avery's home. 
While many viewers of Making a Murderer walked away from the series with the feeling Avery was framed for Halbach's murder, not everyone was so convinced. Avery's ex-girlfriend called him a "monster" in an interview this week with HLN's Nancy Grace and said she was convinced he was guilty. Avery, for his part, has accused his brothers for the murder.