Macklemore and Ryan Lewis Announce 2016 Album Release, 'This Unruly Mess I've Made'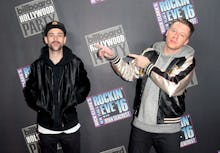 Frederick M. Brown/DCNYRE2016/Getty Images
At long last, Seattle hip-hop duo Macklemore and Ryan Lewis have shared with fans details of a new studio album that will serve as the band's follow-up to 2012's The Heist. 
The sophomore LP, titled This Unruly Mess I've Made, will arrive on Feb. 26, and judging by a letter posted by Macklemore to his website Friday, the making of the upcoming album came with a fair amount of trepidation and self-doubt.
In the letter, Macklemore (born Ben Haggerty) speaks about fear of the imperfect, and of running away from the spotlight and external pressures to create material. Yet according to the artist, that time away in seclusion helped fuel new discoveries concerning the purpose behind — or in spite of —the pressure to deliver. 
Read more:
"I had to figure out how to use my voice again. So, we went ghost," reads the letter. "What I couldn't find in a hotel room, on the road or in Seattle, I found in the middle of nowhere. No reception. Making music not because we had to, but because we got to. I had forgotten how to do that. Not being afraid of the platform we were standing on. Not creating from a place of 'don't fuck up' but creating from a place of 'fuck it up.'"
A new album from Macklemore and Lewis in 2016 was not altogether unexpected, though fans may have started to wonder if a record was ever coming after 2015 came and went without one. Responding to a fan on Twitter on Jan. 1, 2015 who commented on the arrival of the new year without a record, Macklemore wrote, "You will this year. Believe that." Just over a year later, he has kept his word.
In reading the musician's letter, the pressure to perform was clearly on following The Heist's release. The album scored a 74 out a possible 100 via Metacritic after its release, and single "Thrift Shop" edged ahead of pop songs on Billboard's charts in March of 2013. That same year, "Same Love" earned Macklemore and Lewis MTV's award for Best Video with a Social Message.
As we wait for what the rap duo's got in store for Feb. 26, here's a video that accompanied Macklemore's letter to fans: