Queen of Salsa Celia Cruz Is Receiving the Grammy Lifetime Achievement Award She Deserves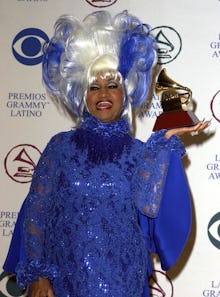 The Grammys are about to get a little sweeter, because the queen of azúcar is about to get an award. Celia Cruz will receive a lifetime achievement award in a special ceremony, Billboard reported. 
Born in 1925 in Havana, Cruz went on to become known as the "Queen of Salsa Music and won three Grammy awards and four Latin Grammy awards. She was known for shouting her signature catchphrase, "Azúcar!" — Spanish for sugar — during her performances. Twenty-three of her albums are certified gold, meaning they sold at least 500,000 copies in the United States. 
Cruz was a style icon known for her outlandish, colorful outfits and for never finding a wig that she didn't love.
Check these out:
Cruz became popular during the 1970s as a salsa singer. Her signature song, "La Vida es un Carnaval," is one of the most popular salsa songs of all time. It embodies a truly Latino theme: Life has many challenges, but you can get through it by singing and dancing. 
After a life that included recording more than 70 albums, and receiving a Smithsonian Institution Lifetime Achievement Award, a National Medal of the Arts and honorary doctorates from Yale University and the University of Miami, Cruz died in 2003 from complications after surgery for a brain tumor. 
Since then, Cruz has been getting posthumous mainstream attention. In 2013, Jennifer Lopez performed a medley of her songs at the American Music Awards. 
Watch Cruz sing "La Vida es un Carnaval" below.