Showtime's 'Billions': Full Preview, Premiere Date and How to Watch Online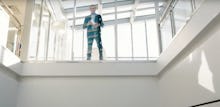 YouTube
Brian Koppelman and David Levien, the duo behind thriller flicks Ocean's Thirteen and Runner Runner, are teaming up with financial journalist Andrew Ross Sorkin for the small screen for a new Showtime series called Billions. Like its name implies, the show is about the high-profile world of hedge funds and government regulation. The show premieres on Sunday at 10 p.m. EST on Showtime, or online with a network subscription. 
The New York-based drama's plot was inspired by real life financial giant Steven Cohen, who founded SAC Capital Advisors. The fictional Cohen is the charismatic and suave Bobby Axelrod, played by British actor Damian Lewis. Paul Giamatti plays Chuck Rhoades, the U.S. attorney with an S&M fetish who tracks down the Wall Street wrongdoings of Axelrod. Rhoades is also based off of a real life attorney, Preet Bharara, but has been de-ethnicized in the show. 
Other actors include Daredevil's Toby Leonard Moore, who plays Rhodes' deputy Bryan Connerty. The wives are Lara Axelrod played by Malin Akerman, and Wendy Rhoades, played by Maggie Siff. 
Read more:
Koppelman and Levien started talking about doing a project like Billions in 2007, and the idea took its own shape after the financial crisis in 2008. "We saw the show in a similar way," Koppelman said about adding Sorkin into the mix, according to Business Insider. "And it was clear to us that Andrew would have a point of view on this material and a kind of access to the world that would be very hard to come by otherwise, so it became very simple to break our rule." 
"Together they've come up with a plot that doesn't even aspire to the earnestness of an old-fashioned Hollywood morality play," NPR said in its review. "The show's basically a glossy melodrama."
The three show creators shadowed hedge funds workers and federal prosecutors.
"Finance touches everyone's life in a certain way and when you get behind it, you can see what makes these people in the industry tick," Levien said, according to Business Insider. 
Perhaps so, since the new show comes in a time when The Wolf of Wall Street, which drips with power, money, drugs and sex, and The Big Short, which is about greed, the media and financial hotshots are capturing audiences. 
A trailer for Billions is below: