Tennessee Powerball Winners Confirmed, Making Instant Millionaires Out of Robinson Family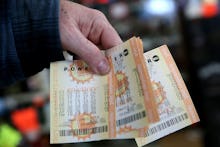 Justin Sullivan/Getty Images
A Tennessee couple became the official winners of one of three coveted Powerball tickets, the Associated Press reported on Friday. John and Lisa Robinson, a family from Munford, Tennessee, had gone to the Tennessee Powerball headquarters to claim their prize — one-third of the record $1.6 billion Powerball jackpot. The Tennessee Lottery confirmed the win in a tweet Friday.
The family decided to take their winnings in one lump sum as opposed to spacing it out over several years, according to the Tennessean. Their winnings totaled over $327 million — they would receive a "couple million" immediately and a check for the remaining amount in about 10 days, the Tennessean reported. 
John and Lisa Robinson appeared on NBC's Today show Friday to tout their win, however at the time, the win had not yet been confirmed. The holders of two other winning tickets — one that was bought in California and one in Florida — have not yet come forward.