Gunmen Opened Fire and Took Hostages in a Burkina Faso Hotel — Here's What We Know so Far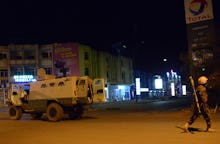 On Friday, three to four masked gunmen opened fire in a hotel in Burkina Faso's capital, Ouagadougou, killing at least 20, wounding 15 and holding an unknown number of hostages, the BBC reports. The hotel, called Splendid Hotel, is reportedly a popular spot for U.N. officials and Westerners.
The BBC reported that bystanders witnessed two car bombs that had also gone off outside of the hotel. Rukmini Callimachi, a New York Times foreign correspondent, shared the latest from eyewitnesses, who stated that security forces were preparing for assault.
Callimachi went on to tweet that approximately 30 of the soldiers were French. This claim is corroborated by BBC's report, which stated that earlier Burkina Faso Foreign Minister Alpha Barry hadn't "ruled out the cooperation of French forces." According to Callimachi, other witnesses saw two bodies being carried out of the building. 
The BBC noted that al-Qaida in the Islamic Maghreb had already claimed responsibility for the attack. Callimachi's most recent developments state that the group, abbreviated AQIM, has indeed released a statement to this effect.
No news outlet has yet confirmed the number of deaths, but CNN reported that Burkinabe security forces have been able to bring out eight hostages from the hotel. In addition to the French forces on the ground, CNN said there is at least one U.S. soldier on the scene, according to a U.S. defense official. France had immediately contacted the Pentagon requesting military support from U.S. forces, which will send "surveillance assistance" in the form of an unmanned drone.