Iran Just Released 4 American Prisoners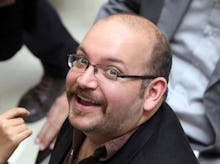 Iranian officials released four Americans held on false charges, BBC reports. One of the released hostages is Jason Rezaian, a Washington Post reporter who was held on charges of espionage. The decision to release the prisoners comes as the United Nations Security Council is set to lift international sanctions on Iran's nuclear program. 
Authorities in Iran arrested Rezaian and his wife in July 2014, and escorted Rezaian to the country's Evin Prison in Tehran. There, Rezaian faced months in solitary confinement without being informed of why he was jailed; BBC reports he was convicted of espionage in 2015. His wife was released on bail, according to the Washington Post. 
According to the BBC, Iran claims the four people held in captivity will be swapped for seven Iranians held in captivity, but that has not yet been confirmed. 
The other prisoners include Marine veteran Amir Hekmati and Idaho pastor Saeed Abedini. There were conflicting reports as to the identity of the fourth freed prisoner. Most news outlets named businessman Siamak Namazi as one, while Iranian news outlet FARS said those reports were false and named the fourth freed person as Nosratollah Khosrawi, a previously unnamed detainee, according to the Washington Post. 
2016 Republican presidential candidate Sen. Ted Cruz criticized President Barack Obama's Iran nuclear deal while also praising the release of pastor Abedini. 
Mohammad Javad Zarif, Iran's foreign affairs minister, also tweeted out a few words on the ordeal.