Bernie Sanders Wants Michigan Governor to Resign Due to Flint Water Crisis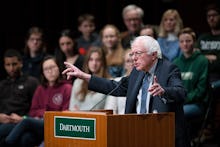 The Detroit suburb of Flint, Michigan, is currently facing a manmade public health emergency after lead leaked into the town's water supply. Now, 2016 Democratic presidential candidate Sen. Bernie Sanders has released a statement calling for accountability — and the resignation of Michigan Gov. Rick Snyder. 
Early Saturday morning, Sanders tweeted out a statement from his official account. 
According to his statement, Snyder must resign due to his failure to deal with the crisis. 
"There are no excuses," Sanders wrote. "The governor long ago knew about the lead in Flint's water. He did nothing. As a result, hundreds of children were poisoned. Thousands may have been exposed to potential brain damage from lead." 
Then, quite plainly, Sanders said, "Gov. Snyder should resign." 
Sanders' statement comes only days after the Michigan attorney general announced that he will seek criminal wrongdoing behind the crisis. The levels of lead in the Flint's water forced Mayor Karen W. Weaver to declare a state of emergency and seek federal aid. 
"This damage to children is irreversible and cause effects to a child's IQ, which will result in learning disabilities and the need for special education and mental health services and an increase in the juvenile system," Weaver said in her statement. 
According to the Centers for Disease Control and Prevention, lead is extremely toxic to minors and can harm children's brains, kidneys, bone marrow and bodily systems. Too much lead exposure can lead to coma, convulsions and death. 
Pictures of Flint's water have been shared across social media. 
Sanders said in his statement that Snyder knew about the water supply, and that his decision not to prevent lead from leaking into the water supply, which caused the water's toxicity to rise, should lead to his immediate removal from office. 
"Because of the conduct by Gov. Snyder's administration and his refusal to take responsibility, families will suffer from lead poisoning for the rest of their lives," Sanders wrote. "Children in Flint will be plagued with brain damage and other health problems. The people of Flint deserve more than an apology."