White Dance Studio Owner Denied Black Twerk Instructor, Called Her Moves "Basic"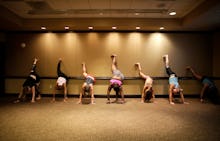 When it comes to twerking, is beauty in the eye of the dance studio owner? 
Kelechi Okafor, a twerk instructor based in the U.K., reached out to the owner of Bodybarre dance studio in Manchester about the opportunity to teach a class. 
After Okafor inquired about teaching, she got this response from the owner: 
The owner said Okafor's style was "too basic" and added that her studio's participants need knee pads to twerk, because they really "throw it down." 
Okafor cited Bodybarre's website, which claims Miley Cyrus made twerking popular. "Thanks to Miley Cyrus we all know exactly what twerking is!" the website reads. 
At this point, Okafor was just wondering why she got the pointed response. 
She then shared video of her twerk class. 
Okafor also retweeted people who showed her support throughout the day and addressed the irony that there is no room for black women in a dance created by black women.
Okaor then shared a video of one of the studio's twerk classes. 
She also pointed out that no girls were wearing pads in the video, contrary to what the owner said in her earlier message. 
The plot thickened when Okafor tweeted out part of their conversation, in which the owner claimed that "haters" had begun to comment on their YouTube videos. 
The owner then messaged one of Okafor's colleagues. 
In a later tweet, Okafor said, "God is my only boss." 
She also shared a public post from the owner's Facebook where she decried "racist" comments she received and said that she was going to shake off the confrontation by twerking to Taylor Swift's "Shake It Off," which had a few twerking problems of its own. 
After that, Okafor went on to discuss the comments she was receiving, but she too mostly shook it off. You can watch a video of one of Okafor's classes below.