9 Artists That Owe It All to R&B Princess Aaliyah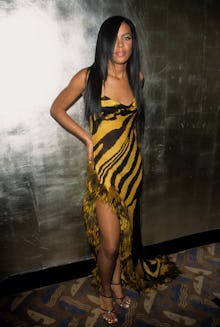 Today would've been R&B star Aaliyah's 37th birthday. Aaliyah died in a plane crash on her way home from shooting the music video for "Rock the Boat" in 2001. She had just released her third album and was signed up to be a star in the Matrix sequels. Her role eventually went to Nona Gaye. 
Aaliyah released her first album when she was only 15 years old and remains influential to an array of major artists working today. 
1. Rihanna
Rihanna, whose new album Anti is supposed to drop sometime soon, has spoken several times about how Aaliyah's videos influenced her own. And plenty of bloggers have spotted Rihanna sporting looks that echo some of Aaliyah's most famous outfits. 
2. Ciara 
Ciara's mix of hip hop and R&B, dance moves and sleek stylings garnered more than one comparison to Aaliyah when she first came out with songs like "Goodies." Though the interview is not up on Billboard anymore, Ciara once told Billboard about Aaliyah's influence on her. She told hip-hop blog That Grape Juice: 
"She was true to who she was and she didn't seem to care about it. The core of her art to me is heavily, heavily urban based. When an artist's music is so urban based, sometimes people like to take risks with artists like that. When you think about it, it really is pop, it really is cultural and that's the one thing that I thought was cool about her music. It never felt like she was trying to reach across or do anything more than just keep that cool, soulful, heavy urban core about it. It wasn't like she was trying to be anything more than who she was. I really respect that and I appreciate that."
You can hear Aaliyah's influence on Ciara in her slower anthems like "Body Party." 
3. Drake 
Anyone who knows Drake knows that he says his music is most influenced by Aaliyah. He's written letters to Aaliyah, he has Aaliyah tattooed on her back , has an image of her on his earpiece that he wears during performances and has released singles featuring the late singer. 
Watch Drake talk about Aaliyah's influence: 
4. Alicia Keys 
One of Alicia Keys' most famous songs, from her landmark debut alum Songs In A Minor, was "If I Ain't Got You." In 2011, Rap-up.com reported that Keys said Aaliyah's death influenced the song. 
"'If I Ain't Got You' was also such an incredible song for me, it just means so much. Certain songs change everything. This was one of them," she said. 
5. Beyoncé
While Beyoncé was still part of Destiny's Child, Aaliyah was perfecting a style that Beyoncé would eventually adopt: the sexually liberated woman who was in control of herself. It's no coincidence that when the Telegraph made a list of the ten women who most influenced Beyoncé, they put Aaliyah alongside greats like TIna Turner, Mary J. Blige and Diana Ross.
Some people claim to hear echoes of Aaliyah in sexual, experimental songs like Beyoncé's "Video Phone" and in an interview with the radio show The Breakfast Club, That Grape Juice reported, Timbaland said Aaliyah "would have been Beyoncé status cause she was the first one to do all those things." 
6. Tinashe
A relative newcomer to the R&B game, Tinashe has already been outspoken about the huge role Aaliyah played in reshaping the R&B genre and how much influence Aaliyah had on her own career. 
"We owe our chill vibe to her," Tinashe told Billboard in 2011. "People were used to artists belting things out. She brought a new vocal styling that wasn't represented in R&B. Not everything has to be so uptempo."
You can hear Aaliyah's influence on Tinashe's "All Hands on Deck." 
7. Wynter Gordon 
Wynter Gordon scored a No. 1 song on the Billboard dance charts in 2010 with her "Dirty Talk," and has gushed about what Aaliyah meant to her career and personally as a woman. 
She told Billboard: 
"I think she was just finding herself when she died. She was just coming into her own. She wasn't like this young girl anymore. She was a woman. She was finding herself and she died right when she was reaching the top. Aaliyah had this really soft voice. It was soft but strong. And she was beautiful. You just wanted to be her, she was so likeable. The guys probably wanted to be with her her and the girls wanted to be like her.
I think 'Rock The Boat' was very revolutionary for when it came out because that song was such a mood song, it was so real. It was like she was riding a rhythm and a beat. It was like an old school Motown song, you could break it down. I don't think people make music like that anymore, it's so inspiring."
8. Nelly Furtado 
Though she made her mark with pop anthems like "I'm Like a Bird" and "Turn Off the Light," Furtado reached her highest highs commercially with her R&B-infused songs like "Promiscuous," which featured one of Aaliyah's mentors and collaborators, producer Timbaland. Furtado's song hit No. 1 on the Billboard charts and became her biggest hit. 
9. Katy B 
Like Aaliyah, British artist Katy B straddles many genres: electro, house and R&B, to name a few. Though she hasn't spoken too much about Aaliyah's influence on her, it's clear from her song "Aaliyah" that the songstress's beauty and talent is still apparent to a new crop of musicians. The song, also an homage to Dolly Parton's "Jolene," sees Aaliyah cast in the role of the beautiful Jolene to whom the singer pleads not to seduce her lover away. 
Watch Aaliyah's final video for "Rock the Boat" below.