Jada Pinkett Smith Just Weighed In on #OscarsSoWhite — And She's Not Messing Around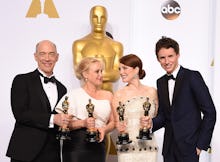 And the Oscar goes to... a white person, invariably. 
For the second year in a row, not a single actor of color was nominated for an Academy Award. When the Academy of Motion Picture Arts and Sciences announced its nominees Thursday morning, it didn't take long before #OscarsSoWhite was once again Twitter trending. And as it did in 2015, the hashtag came coupled with a call to boycott the 2016 Oscars. On Saturday, Jada Pinkett Smith weighed in on the Oscar imbalance, condemning the diversity gap and raising the question of a boycott in a series of tweets.
"At the Oscars," Pinkett Smith said, "people of color are always welcome to give out awards...even entertain. But we are rarely recognized for our artistic accomplishments. Should people of color refrain from participating all together? People can only treat us in the way in which we allow."
As the Independent reported, 2011 marked the first year since 1998 that no actors of color were up for the award. 2014 looked like progress for the Academy: Lupita Nyong'o took home the golden statue for her role in 12 Years Slave, and Gravity's Alfonso Cuarón won best director. But 2015 brought another 20 uniformly white contenders in the award show's acting categories, and the birth of #OscarsSoWhite. 
Whom did the Academy snub? In 2016, notable snubs included Straight Outta Compton, the N.W.A biopic that was nominated for both a Producers Guild award and a Screen Actors Guild award (for outstanding performance by a cast in a motion picture, which it won). It was nominated for best screenplay, but shut out of every other category. 
Then, there was Pinkett Smith's husband, Will Smith, whose work in Concussion led the Hollywood Reporter to declare in November that the actor was not only "poised to return to the Oscars as a nominee for the first time in nearly a decade," but a likely bet to take home best actor. 
The most buzzed-about snub was Idris Elba, who was not given a nod for his supporting role in the Netflix drama, Beasts of No Nation; the film itself received no nominations, although two of the streaming service's documentaries — What Happened Miss Simone? and Winter on Fire: Ukraine's Fight for Freedom — did make it into the running. Star Wars' John Boyega got no mention from the academy; Samuel L. Jackson was passed over for The Hateful Eight, and Michael B. Jordan did not make the cut for best actor for his performance in Creed, but the movie did get some love: Sylvester Stallone's Rocky reprisal earned him a best supporting actor nod. 
Another notable absence? Mya Taylor, the transgender star of indie film Tangerine. The movie itself is an unlikely choice for the Academy: It was shot on an iPhone, its cast is entirely composed of unknown actors and it follows two transgender prostitutes on a vengeance odyssey through the streets of Los Angeles. It's grittier than the Academy's traditional tastes, which is what made the filmmakers' fight to win Taylor a nomination — which would have been the first for a transgender woman — somewhat unlikely. 
And indeed it was: A straight white man — Eddie Redmayne, who gave a great performance — is up for best actor, for his role as transgender woman Lili Elbe in The Danish Girl. 
That the Academy of Motion Picture Arts and Sciences has a diversity problem isn't news. In August, Mic's Kevin O'Keeffe reported on the industry equal opportunity employment apparently forgot. In 700 Hollywood films made between 2007 and 2014 (2011 excepted), 30% of all speaking roles went to women, while 70% went to men. Within 2014's top 100 movies, 73% of roles went to white actors; just under 5% went to black actors, 12% to Latino actors and a modest 4.2% to Asian actors. Membership to the Academy is overwhelming male and overwhelmingly white: Given these statistics, Chris Rock's suggested name for its big night seems pretty apt. 
How can the industry close the gap? On Friday, Straight Outta Compton producer Will Packer wrote a long Facebook post, in which he both commended the deserving talent nominated for 2016's awards and highlighted a persistent, "embarrassing" problem within the industry — the same one Viola Davis targeted in her 2015 Emmy acceptance speech. 
"We need more content produced by, written by, directed by and featuring filmmakers and actors of color being given the greenlight," Packer wrote. "To my Academy colleagues, WE HAVE TO DO BETTER. Period. The reason the rest of the world looks at us like we have no clue is because in 2016 it's a complete embarrassment to say that the heights of cinematic achievement have only been reached by white people. I repeat—it's embarrassing. It's unfair to the performers of color who sacrificed so much, laid it all on the line AND DELIVERED with their projects this year." 
"It's also unfair to the white actors, writers, producers and directors who gave everything they had to create career defining content only to have it marred by the fact that a lack of diversity calls into question the legitimacy of The Academy's choices," Packer continued. 
Another good point. Hollywood's diversity gap discredits the entire industry; Pinkett Smith's boycott may be just the thing to remind the Academy how serious a problem it is.
Correction: Jan. 18, 2016