Rowan Blanchard Says She's 'Queer' Opens Up About Her Sexuality in Twitter Post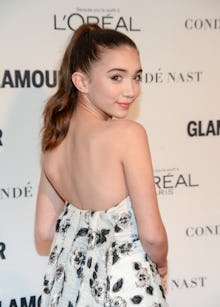 Evan Agostini/AP
Rowan Blanchard, the fresh-faced Disney channel star of the series Girl Meets World, is finding herself both in front of the cameras and behind-the-scenes, according to a Twitter post penned by the 14-year-old earlier this weekend. The actress told fans she was deciding to ditch any labels when it came to her sexuality, though she says she has only ever been attracted to the opposite gender. 
"In my life - only ever liked boys however I personally don't wanna label myself as straight gay or whateva," Blanchard wrote in a casually written post uploaded to Twitter Saturday night. "So I am not gonna give myself labels to stick with- just existing :)"
The actress later clarified her position, replying to a Twitter user that she is "open to liking any gender in future," and identifies as queer.
No labels, but she's already making headlines: Blanchard seems to be quite self-aware for such a young actress in her Hollywood career. The star has already opened up on her thoughts on feminism, #squadgoals and why the world needs to stop telling women to smile. 
The 14-year-old, who plays Riley Mathews on the Disney channel hit show, also released a blog on the teenage forum Rookie Mag Friday titled "Sorry, Not Sorry: How I quit apologizing for existing," which mirrors the forward-thinking and abstaining-from-labels ideology Blanchard has decidedly taken on for the New Year.
"As long as you work to become comfortable with whoever you are at the moment, you will be OK," Blanchard writes in the Rookie Mag post, in which she lists three steps she has taken to feel more self confident and sure of her own judgements. "You don't have to apologize for who you are, and you certainly don't have to apologize for who you are not. I think what you need to know most of all right now, is that all you ever need is yourself. What other people think or say can hurt—that is valid, PLEASE don't trivialize what you are feeling—but you must matter most to yourself. You owe it to yourself to care for your truth. You owe it to yourself to live that truth."
Growing up in the spotlight: For Blanchard, becoming a Disney channel star two years ago hasn't seemed to have taken a toll on the actress' personal growth, as expressed in her recent online posts. The Disney star also runs an Instagram blog titled "Finding My Voice," in which she describes her activism, stresses the importance of education and details why she thinks young people around the world need to be more outward with their thoughts and ideologies.
"Acting gives me a better understanding of humans, and makes me far less judgmental of people, because I can see the world through their eyes," Blanchard writes. "I am not shy to speak my mind on anything, and I encourage my fans to be the same. I want teens my age to know that they have a voice and it should not be silenced. I have been lucky enough to grow up around people who have let me use my voice to speak up about things I see. There is not an age requirement on when to start changing the world."
Blanchard is also an active member of the HeForShe campaign, speaking at the United Nation's Women U.S National Committee Conference in June on feminism and the need for equality amongst men and women across the nation.