Meek Mill Takes Shots at Drake in New Track and Nobody Cares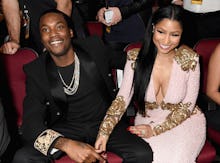 Jeff Kravitz/AMA2015/Getty Images
Long after the queen of hip-hop ended her royal feud with Taylor Swift in an iconic performance at MTV's 2015 Video Music Awards, the king of grudges is coming back swinging in an empty boxing ring against rap's current heavyweight champion. Nicki Minaj's Philadelphia rapper boyfriend — and soon-to-be fiancé — Meek Mill is taking shots at Drake in a new four-track EP, in anticipation of his forthcoming Dreamchasers 4 mixtape.
Mill, who has been touting new music as of late on Instagram to promote his latest project, posted the surprise to SoundCloud on Saturday, which includes an apparent freestyle over Drake's recent mixtape hooks, as well as multiple shots at the "Hotline Bling" rapper. 
In his "I'm Da Plug" freestyle, the artist once again insinuates Drake employs ghostwriters to churn out his steady stream of hits:
"You ain't really write it/ I'm like, 'who's your stuntman?'"
Unfortunately, audiences were bored and took to social media to express their dying interest in Meek Mill's one-sided battle, even alluding to the rapper's court order to remain within Philadelphia while awaiting a Feb. 5 sentencing date after violating his parole, which requires him not to travel outside of Pennsylvania without permission. 
Other users were yawning just as hard:
Even fans were disappointed with the two steps back Meek Mill took on his latest track:
It seems as though Mill is the only one laughing at his punchy one-liners against Drake, who just released new music with A$AP Rocky on his OVO Sound Beats radio program Saturday. Unsurprisingly, the Canadian artist made no mention of his beef with Meek Mill. 
Perhaps it's time to take a lesson from the ladies and put this feud to an end.