SpaceX is Launching and Live Streaming Jason 3 Today and This is Why It's Big News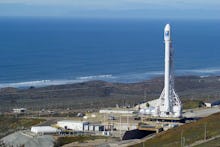 Matt Hartman/AP
SpaceX, a private spaceflight company, will launch Jason-3, a NASA satellite that will attempt to measure the height of the ocean's surface. The launch will be available for live stream on NASA TV beginning at 11:00 a.m. EST, but the satellite will not officially take off until 1:42 p.m. EST. 
The launch will take place from California's Vandenberg Air Force Base. A joint international endeavor, the satellite will help oceanographers and researchers determine how climate change is affecting the planet, weather patterns and could help better  improve meteorological predictions. 
The fourth mission attempt since the TOPEX-Poseidon launch in 1992, the Jason-3 satellite will attempt to investigate the ocean floor, specifically, its topography. This launch will continue research that the 2001 Jason-1 launch and 2008 OSTM-Jason-2 launch are currently executing.
 "We definitely see this as a sustained activity, based on the value and importance that we've been able to draw from it for the long term," National Oceanic and Atmospheric Administration Assistant Administrator, Dr. Stephen Voltz said, via the live stream. "It's been a long road to get to this and our partners have been essential. We really couldn't do this on our own."
"Even going back to the Poseidon launch in 1992, which was a CNES/NASA launch, this has been a partner program from the start. The ocean's don't have boundaries and we all share the same information content, so we've been looking forward to this for a long time, and are looking forward to a good launch today."
According to NASA, the Jason-3 launch is a partnership between the the French Space Agency CNES (Centre National d'Etudes Spatiales), the National Oceanic and Atmospheric Administration (NOAA), NASA and EUMETSAT (the European Organization for the Exploitation of Meteorological Satellites).
With the sea level rising by over two millimeters per year, Jason-3 will attempt to provide answers for one of the biggest issues the planet faces: climate change.
 "It's something we need to understand if we want to understand what the future of planet Earth is," John Grunsfeld, associate administrator for NASA's Science Mission Directorate said via the live stream. 
"Why is it important? Because a lot of people live on coasts, it affects erosion," Grunsfeld continued. "And we want to understand, is the sea level rise something that is just slowly going up? Or is it it going to accelerate? That's really important information for people on planet Earth."
Viewers shouldn't blink, as the launch window is only about 30 seconds.