Annie Leibovitz's New Exhibit Features Portraits of Caitlyn Jenner, Amy Schumer and More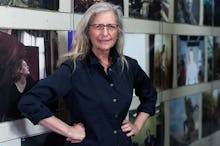 Ian Gavan/Getty Images
The Pirelli calendar was just a preview. 
On Jan. 12, Annie Leibovitz's photo series "Women: New Portraits" went on display at London's Wapping Hydraulic Power Station. The exhibit — purposefully staged in an unpretentious, industrial space — is open to the public, free of charge, and features photographs of 100 remarkable women. Among Leibovitz's subjects are Lupito Nyong'o, Amy Schumer, Adele, Caitlyn Jenner, Hillary Clinton, Michelle Obama, Queen Elizabeth, Misty Copeland, Jane Goodall, Gloria Steinem, the Kardashians, Taylor Swift, Aung San Suu Kyi and Rookie magazine's Tavi Gevinson; each one a woman who reminds the viewer "what we look like and the role we play," according to Leibovitz. 
As such, the show doesn't simply spotlight women of means. Subjects range from the rich and famous to the unrecognizable; Leibovitz's aim is to highlight powerful people, regardless of social status. Thus, the exhibit is "very democratic," the photographer said. "All the frame sizes are equal. The idea behind 'Women' is to have, for example, Hilary Clinton next to a homeless woman. There was no rhyme or reason, it was supposed to be more arbitrary."
An equal opportunity portrayal of women at their most powerful, in other words, similar in concept to Leibovitz's aforementioned Pirelli calendar, which she shot in late 2015. The exclusive calendar that traditionally features supermodels in various states of undress will, in 2016, feature "distinguished women" photographed "exactly as they are, with no pretense," as Leibovitz explained in a press release. The reimagined calendar includes images of Fran Lebowitz, Yoko Ono, Selma director Ava DuVernay, Patti Smith, Serena Williams and — famously — a bare naked Amy Schumer.
"Annie captures women in all our human variety and idiosyncrasy, simplicity and artifice, bravery and fear," as Steinem wrote in her statement for the show. "In other words, in all our humanity. No word as limited as gender can account for all the truths in this exhibit."
"Women" began as a book of the same name, a collaboration between Leibovitz and Susan Sontag published in 1999. Now, Leibovitz's "Women" series will tour ten cities over the course of the year: London, Tokyo, San Francisco, Hong Kong, Singapore, Mexico City, Istanbul, Frankfurt, New York and finally, Zurich. Originally Leibovitz thought the project, which was Sontag's idea, would be too great an undertaking, insurmountably large in scope; she still feels as though trying to capture the ever-changing position of women is like "going out and photographing the ocean," according to CNN. The series is far from finished.
"On some level I feel that this is an installation, it's not a show," Leibovitz told the New York Times. "The work on the boards is in progress. It's meant to look like it's being formulated. This is the first time that I've done work and just thrown it up: It's a little daunting to me."