Critics' Choice Awards 2016 Is Streaming Through A&E's Website and Here's How to Watch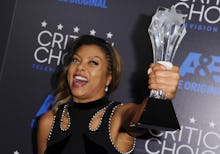 Richard Shotwell/AP
The awards show season is in full swing with Sunday night's Critics' Choice Awards airing across multiple networks live at 8 p.m. Eastern. The event will be featured on Lifetime, A&E and Lifetime Movie Network, as well as livestreamed for audiences worldwide, according to International Business Times U.K.
Silicon Valley's T.J. Miller will be hosting the 21st Critics' Choice award show, which online viewers can watch on the A&E network's website. The comedian and actor has been cracking fans up with a series of "threats" he's received and shared on Twitter in anticipation of Sunday night's event:
"I will host and people will laugh, cry and vomit," Miller announced in one tweet. Entertainment Weekly reports Leonardo DiCaprio is up for best actor for his role in The Revenant, along with fellow actors Michael Fassbender, Bryan Cranston, Matt Damon, Johnny Depp and Eddie Redmayne.
Jennifer Lawrence, who has been raking in the trophies this awards season — though the world might have witnessed America's sweetheart's downfall at the 2016 Golden Globes — is up for best actress, along with Charlize Theron, Cate Blanchett, Brie Larson, Saoirse Ronan and Charlotte Rampling. 
According to a post on the movie awards website, comedian Amy Schumer will receive the "Critics' Choice MVP Award," for her writing and performing in 2015's Trainwreck, which was also nominated for a Golden Globe.
Check out a full list of nominations for the 21st Critics' Choice awards, via Variety.